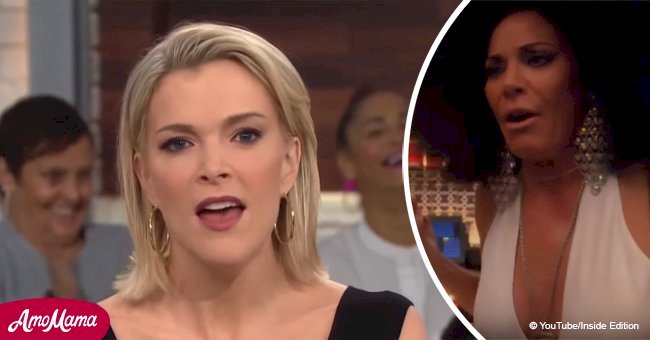 Megyn Kelly has to apologize amid her controversial support of 'racist' costumes

Megyn Kelly became the center of attention yet again but not in a positive way, as she was filmed saying that blackface was acceptable.
The host defended that it was alright for a white person to paint their face as long as they were impersonating a character, which shocked a lot of people.
As reported by the Daily Mail, the statement was made during a Halloween segment, and that she later apologized after realizing how racist her remark had been.
Follow us on our Twitter account @amomama_usa to learn more.
THE APOLOGY
Kelly apologized to her colleagues on Tuesday after being severely criticized for defending the racist practice, claiming that people used to do it when she was a child.
According to her initial opinion, a white person should be allowed to paint their face in order to play a character, and that it shouldn't be seen as a racist act.
SHOCKED COLLEAGUES
The host used Luann de Lesseps, from "Real Housewives of New York, who recently darkened her features to impersonate Diana Ross, as an example.
Her colleagues - Jenna Bush Hager, Jacob Soboroff and Melissa Reivers - didn't appreciate her stance and immediately told he that blackfacing was incredibly racist.
NOT A FIRST FOR KELLY
This wasn't the first time that Kelly has been caught spewing racist remarks; back in 2013, she claimed that Santa Claus and Jesus were 'proved' to be white and that that shouldn't change because people felt uncomfortable.
Racism is one of the biggest issues in America at the moment and every day a new story hist the internet. The most recent incident took place aboard a Ryanair flight.
ANOTHER CASE OF RACISM
A man, who is yet to be identified, was caught on camera verbally assaulting a woman because he didn't want her to sit next to him, even though they were one seat apart.
The woman eventually changed seats but, shockingly, the man wasn't removed from the aircraft by the airline staff, even though several people could be heard asking for the man to be kicked out of the flight.
Please fill in your e-mail so we can share with you our top stories!