Video of racist man insulting a woman on an airplane goes viral
The video of a man being aggressive and racist towards a woman aboard an airplane has gone viral and the police are currently conducting an investigation.
The incident took place last Thursday, October 18, 2018, at Barcelona Airport, in Spain. The Ryanair flight was set to take off from Barcelona to Stansted, near London.
The altercation was captured by David Lawrence, one of the passengers, who didn't waste any time uploading the video to Facebook.
Follow us on our Twitter account @amomama_usa to learn more.
Many people are criticizing Ryanair staff for not kicking the man off the flight. https://t.co/geeA6o6ZCV # via @blackvoices

— Chris Whyte (@jchriswhyte) October 21, 2018
A HEATED ARGUMENT
The video is truly distressful and it depicts the man, whose identity is yet to be revealed, angrily protesting because he was sitting next to the woman, who hasn't been named either.
A flight attendant can be seen trying to defuse the situation that keeps on escalating every time someone tries to calm the man down.
"He was saying things that are unrepeatable" - Man who filmed racial abuse of a woman in her 70s on a Ryanair flight describes what happened

Ryanair has referred the matter to Essex Police https://t.co/vKVURlO3HR pic.twitter.com/1badicVY33

— BBC News (UK) (@BBCNews) October 21, 2018
RACIAL SLURS
The lady was sitting one seat apart from the man, who, at one point, tells the woman 'Don't talk to me in a foreign language, you stupid ugly cow.'
Aside from insulting her, the man also threatened her by saying that if she didn't move to another seat, that he would forcefully move her.
Why was this vile man not removed from the flight for the safety of ALL passengers? And that poor lady should have been protected and supported by #Ryanair. Appalling. All staff standing together against him would have de-powered him. #saynotoracism

— The Plodding Historian📚 (@lke73_historian) October 21, 2018
A CONTROVERSIAL DECISION
The woman was asked if she wanted to change seats, but she initially refused. After a lot of exchanged words, she agreed to join her daughter somewhere else on the plane.
To the other passengers' surprise, the man remained aboard the aircraft. Many people can be heard asking the flight staff to remove the man from the plane, but that didn't happen.
It has reportedly been confirmed by Robin Kiely, Ryanair's head of communications, that the Essex police has been informed of the situation.
ANOTHER CASE
Unfortunately, racism is one of the biggest issues in today's society and situations like these seem to find their way to the internet on a daily basis.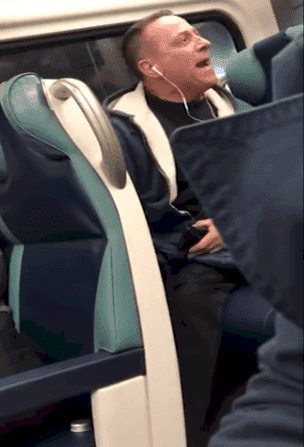 Recently, Soraya Orelien, from New York, was a victim of a racist rant by Edward Ruggiero, a 58-year-old man from Long Island, who called her a 'loud-mouthed monkey' because she was allegedly 'talking too loud.'
Ruggiero's actions were caught on camera and he was charged with a menacing in the third degree as a hate crime and a second-degree aggravated harassment and could face up to one year behind bars.