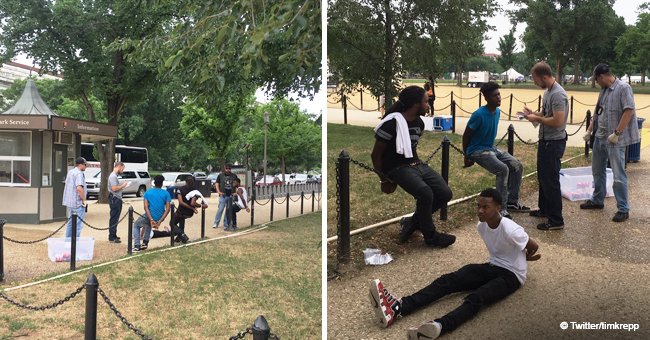 Three black teens were handcuffed for selling water without a permit on the National Mall
Two 17-year-old and one 16-year-old teens were placed in handcuffs and detained at Washington D.C.'s National Mall because they were selling water. They were all black.
As revealed in the tweets posted by Tim Krepp, the arrest was carried out by undercover park officers. Sgt. Anna Rose, one of the members of the U.S. Park Police, released a statement soon later pointing out that the teens were handcuffed for the "safety of the officers and of the individuals."
The photos in the tweet portrayed the three young men sitting on the chains and the floor with their hands behind their bodies while the officers were apparently interviewing them.
A RACIST DECISION?
After posting the images, Krepp, who works as a tour guide, pointed out that his children sell water, too, and that everybody smiles at them when they do so. "These kids do it and get arrested. It IS racist," added Krepp.
PEOPLE'S REACTION
As soon as those tweets became viral, several people consider that the agents shouldn't have done it. Some of them pointed out that it was an aggressive way to handle the situation and that handcuffing the teens was "racial injustice."
SELLING WITHOUT A PERMIT
Rose made sure to say in her statement that selling on the National Mall without a permit was illegal, trying to let people know that what they did was following the law. She added that the teens were released without charges after their parents went to the park's police station. They also got their belongings back.
A COUNCIL MEMBER'S POINT OF VIEW
Democratic D.C. Council member Charles Allen sent a letter to park Police Chief Robert MacLean soon after the incident to wonder why the officers considered that arresting those teens for something as innocent as selling water bottles was appropriate.
"I can't help but think how the reaction by these same officers might have varied if different children had set up a quaint hand-painted lemonade stand on the same spot. While still the same violation of selling a beverage without proper permits and licenses, I doubt we would have seen little girls in pigtails handcuffed on the ground," wrote Allen.
ANOTHER PERSON GETTING ARRESTED FOR A GOOD DEED
While uncommon, it is not the first time that someone gets arrested for doing something apparently harmless as Tammie Hedges took 27 dogs and cats in her shelter during Hurricane Florence and gave the ill ones amoxicillin and a topic antibiotic ointment.
Even though she did so to save them from having a difficult time – or worse – police charged her with 12 counts of illegal practice of veterinary medicine. Several people have shown their support for Hedges and her brave actions, something that the justice seems to ignore.
Please fill in your e-mail so we can share with you our top stories!