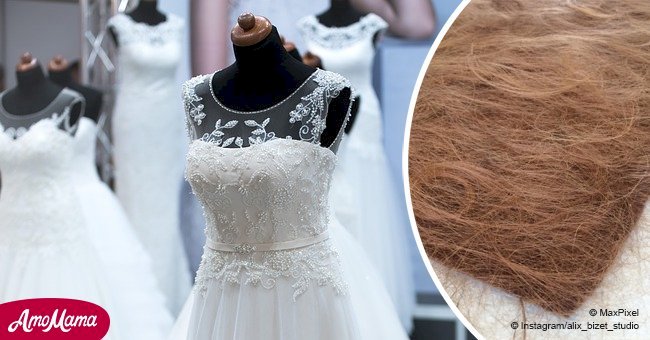 Bride is ready to pay $20,000 to anyone who can make this creepy wedding dress
A UK-based bride to be recently posted an unusual request on the internet.
The 61-year-old prospective bride had an admittedly weird request when she posted an add on a fashion manufacturing website in the hopes of finding a designer that would make her wish come true.
The first part of her request seems fairly ordinary as she wrote:
"I'm looking for someone to recreate my mother's wedding dress from 1953, which she wore when she married my father. My mother passed away recently, and I'd like to create a special memento of her life."
Source: https://sewport.com
Reading on it starts to shift from ordinary to unusual as she goes on to say:
"The dress will serve as this, however, I need a specialist as the material I'd like to create it from is admittedly quite weird."
But the request soon becomes clear when she gets to explaining what she wants for her wedding dress and said:
"I found out my mother was ill in 2014 and from that point onward I began to collect her hair. At the time I wasn't quite sure why I was collecting it, however now I think I do. I'd like the dress to be made from my mother's hair intertwined into the dress design. I want the dress to be authentic to the time with the sleeves, bottom trim, and neckline collar completely made from my mother's hair. I'd also like the bodice around the midsection of the dress to have a lacy, floral design made with the hair."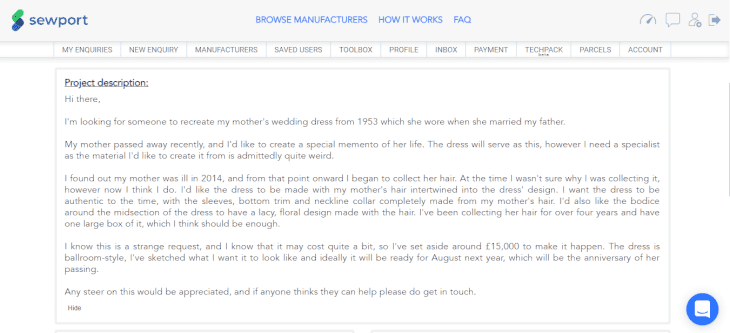 Source: https://sewport.com
The unnamed bride to also include a sketch of what she envisions for the dress and where the hair inserts should be. It's hard to think that during Victorian times practices like these were not uncommon, as it was customary for mourners to wear clothes or accessories containing a lock of hair from a dead relative.
No dressmaker has offered their services to make and have her dress completed by August 2019. She is offering to pay about $20,000 for a replica of her late mother's wedding gown with the unusual inserts.
Perhaps the UK bride-to-be has not heard of the Dutch Design Academy student Alix Bizet. She is a French student graduating at the Academy in Eindhoven in The Netherlands, and she designs clothes made of human hair.
Her graduation project 'Hair Matters,' centers around creating jackets and hats from human hair. More specifically, African American hair. She aims at learning to work with all hair types, but for now, she works with frizzy hair and has learned a special weaving technique for using hair in her designs.
For Alix it's a sustainable solution and an animal-friendly alternative to fur. She aims to eliminate the taboo that comes with the idea of wearing human hair. Let's see what the future holds.
Human hair aside, other women are also opting for more unconventional wedding dresses. Actress Melissa Gilbert married actor Timothy Busfield on April 24, 2013, at the San Ysidro Ranch in Santa Barbara.
Wedding guests were surprised to see her walking down the aisle wearing a long strapless red dress, while Busfield wore a dark blue suit with a white shirt and no tie. Going with their own personal preferences instead of following more traditional wedding standards. After all, it's about what has meaning to the wedding couple on their special day.
Please fill in your e-mail so we can share with you our top stories!