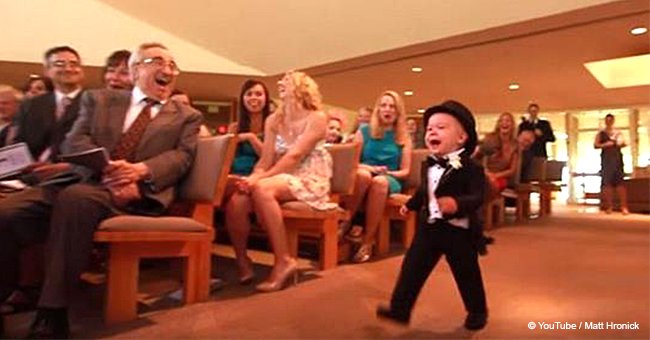 Ring bearer's appearance at the wedding made guests roll in their seats with laughter
An adorable little boy stole the spotlight from the bride and groom during their wedding as he made his way down the aisle.
Weddings are always filled with happy memories and laughter, especially at receptions. Although, there are a few instances when hilarious moments take place at the actual ceremony.
Most of the time, these funny instances happen when the ring bearer or the flower girl walks down the aisle toward the altar.
This viral video is one of those comical moments.
Follow us on Twitter at AmoMama USA for more viral videos and stories.
As it appeared in the short clip, two ring bearers were picked for the entourage.
As ring bearers, their task was to carry the rings, but it looks like the bride and groom didn't want to overwhelm them and decided to just let them do their walks and not have them do their actual task, which was to bring the rings to the altar.
The first ring bearer was an older boy. He made his way towards the altar while holding hands with a flower girl.
As he reached the middle, he made the guests laugh when he suddenly stopped in front of the person holding the camera.
The person behind the lens was quick to scoot the child away and directed him to where he was supposed to go. Luckily, the boy followed.
As everyone probably thought they were safe from a potential wedding mishap, another ring bearer stepped in and was ready to make a scene.
The second ring bearer was even younger than the first one. The guests had all their eyes on him as he walked down the aisle. The little toddler was clearly amused by how everyone kept smiling and waving at him as the guests tried to guide him down.
Suddenly he started to laugh out loud. It was adorable, and it made the guests laugh as well. Ditching his hat and letting it fall to the floor, the little tot laughed even harder.
It was a good thing that he still made it down the altar despite his spotlight-stealing moment.
In another viral story, a flower girl was too shy to make her way down the aisle. Despite her mother's encouraging words, she kept coming back to her.
Suddenly, the groomsman stepped in and walked with the flower girl so she wouldn't feel shy or frightened.
Please fill in your e-mail so we can share with you our top stories!