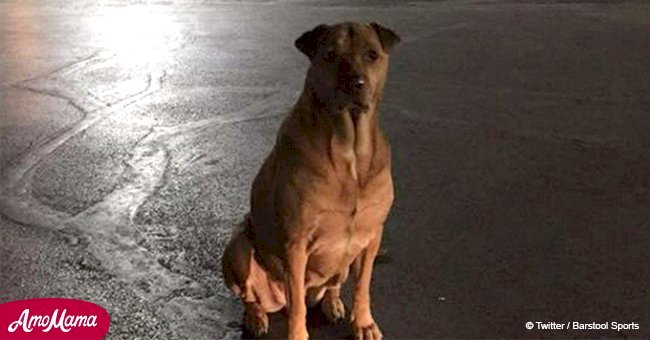 Dog fakes being a stray to get food from McDonald's
A dog named Princess has been finessing generous dog lovers out of food she doesn't need. Her owner made a case and now has evidence.
Princess' owner Betsy Reyes posted a hilarious warning on her Facebook page. She even included a video of the canine culprit.
Reyes, an Oklahoma City resident, informed innocent persons about her dog's clever tricks. Princess regularly pretends to be a stray near her local McDonald's to get some burgers.
Reyes uploaded the post complete with an expletive-ridden caption:
"If you see my dog @ the McDonald's on shields, quit feeding her fat [expletive] bc she don't know how to act & be leaving the house all the time to go walking to McDonald's at night. She's not even a stray dog. She's just a gold diggin [expletive] [expletive] that be acting like she's a stray so people will feel bad for her & feed her burgers."
Reyes followed the sneaky dog out to McDonalds. She worked like a detective taking pictures and videos of Princess.
Then she approached Princess and recorded her dog's reaction. Gold-digging Princess hopped up to her owner's car. She immediately recognized Reyes and jumped back down.
The post has already been shared over 278,000 times, liked 295,000 times, and received over 29,000 comments.
Most persons had a good laugh at the whole scenario. However, one Facebook user named Eli Angele encouraged the dog's owner to put a collar on her.
She stated: "When she gets hit by a car you won't think it's so cute and funny anymore."
Angele has a point regarding the dog's safety. For dog owners, it's also worth noting that street dogs are sometimes picked up to be spayed and neutered.
But Princess may have an advantage under the cover of night.
Back in September 2018, one dog in Chile made no pretense out of its situation when it collapsed in front of a home.
Luckily for the animal, the homeowners were still moving in and doing renovations.
They left their gate open, allowing the weak dog to come into the driveway where it would be noticed.
Beatrice Baranski Kaniak was fully on board to rescue the dying animal and bring it to a vet. She then nursed it back to health and made it part of her own family.
Please fill in your e-mail so we can share with you our top stories!