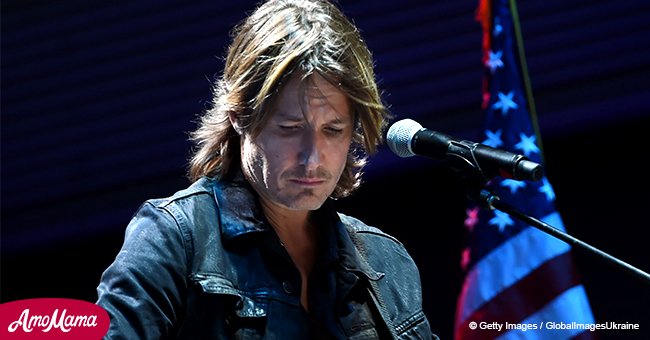 Keith Urban made a frank confession about a personal tragedy that inspired him to give back
Keith Urban opened up about how a childhood tragedy molded him into a caring, giving man.
Keith Urban is known as one of the most accessible, and generous of all country music artists. The singer modestly attributes his philanthropy to an incident in his childhood that showed him how important solidarity is, and how a little help can change a life, reported AllAccess.com on October 24, 2018, in an interview that laid the singer's past bare.
The New Zealand-born country star, whose philanthropy goes from supporting St. Jude Children's Research Hospital - where all children are treated at no charge - to raising funds for "All For The Hall," to promoting educational projects, learned his valuable lesson at the age of 10.
"They raised a bunch of money to help us, and I saw that real community spirit in action at a very young age, and it's always stayed with me."
Keith Urban, AllAccess.com, October 24, 2018.
A FIRE LEFT URBAN'S FAMILY DESTITUTE AND HOMELESS
When the singer was 10, his family's house burned down, and they lost all their possessions. The Urbans were left with the literal clothes on their backs, and no-where to turn to.
Urban recalled that the Red Cross and Goodwill donated clothing and shoes for the entire family, and the country music club to which they belonged rallied around the stricken family.
A COUNTRY MUSIC FUND-RAISER HELPED URBAN'S FAMILY
One of the club members offered their home as a venue, and the club set up a party as a fund-raiser to help the family get back on their feet.
COUNTRY MUSIC, FUN, AND BEER
Since the club didn't have a liquor license and couldn't sell the beer, the drink was free, but partygoers were encouraged to make a donation of $2 for every beer. It was the first time Urban saw community spirit in action, and it impressed him deeply.
GIVING BACK THOUGH HIS MUSIC AND HIS TIME
Urban has made a part of his life's work to give back - both personally and professionally - and he is known for mentoring and promoting young country talents.
On October 20, 2018, Urban gave back in an extraordinary way and touched the life of a young, desperately ill fan.
SINGING BY A SICK FAN'S BEDSIDE
Urban visited a gravely ill fan, Marissa English in Toledo Ohio, who is an avid fan, but was too sick to go to his Toledo concert.
Urban visited the 25-year-old English who suffers from cerebral palsy, severe scoliosis and has an inoperable cyst on her brain.
His visit was the result of a viral campaigned fueled by her family and friends to bring Urban to her bedside.
"We knew how important it was to Marissa to be at that concert [on Thursday] and since she wasn't able to we were hoping to try and find some way to have Keith make a connection with her."
Nurse Jan Cassity
Touched by English's story, Urban visited for her for 45 minutes before his Toledo concert. He sang his hit "Blue Aint' Your Color" for English and she attempted to join him on the choruses,
English's mother, Marlise Matthews said the singer's meant the world to her daughter and their family, and that Urban's kindness had made her child's fondest dream come true.
Please fill in your e-mail so we can share with you our top stories!