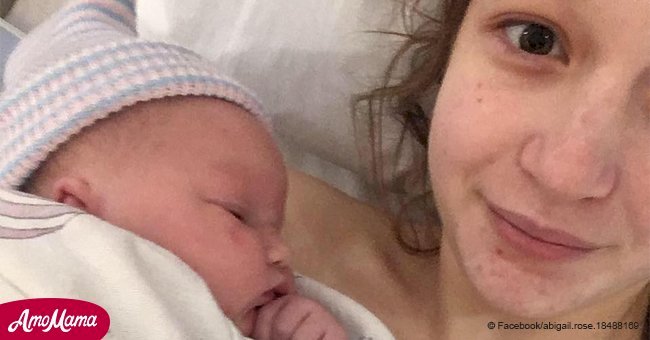 Broken-hearted mother of deceased infant begs everyone never to kiss newborn babies
Abigail Rose Friend shared her heart-wrenching story on Facebook to warn others. She used the hashtag #DONTKISSTHEBABIES
Back in May, Aliza Rose was born a healthy baby of almost nine lbs. Friend said she was doing fine for a day and a half before the HSV-1 started attacking her.
Now, she's warning others of a risk that she knew nothing about before it changed her life around. She said, "I'm never going to stop sharing the gut-wrenching, heartbreaking, soul-shattering story of our sweet Aliza Rose."
Follow us on Twitter for more @amomama.
According to Mirror, Friend's daughter was eight days old when she succumbed to the virus. It had consumed her body and finally reached her brain. She explained:
"She was 8 days old when she passed away. She was born a happy healthy almost 9lb[sic] baby. She was healthy for a day and half [SIC] before the HSV-1 virus attached to her spine and ate her lungs and brain."
In addition to Friend's partner, Tyler Hensley, others visited the mother. Hensley, 26, said the doctors referred to the sickness as a fluke. This gave them hope little Aliza would survive.
"Some family and a few close friends came to visit her when she was born. There's no way to ever know who gave it to her because it's such a common virus. It could have been anybody. It could have been a doctor for all I know.
But the pain was so excruciating for the poor child that she had to be sedated.
"When she was born, she was a happy little baby and completely fine. But then she started running a fever and didn't want to wake up from her naps or eat. She started to swell up from all the fluid building up in her lungs."
Aliza succumbed to seizures as a result of the combined treatments. She was put on an EEG machine, a dialysis machine, and needed breathing equipment.
"She was having trouble breathing and they had to put her on oxygen and eventually she was on so many machines and tubes that you couldn't even tell she was a baby."
Doctors declared baby Aliza brain dead on May 20. Her mother sang "You are my sunshine," as she lay in her arms.
Friend described the gut-wrenching sight of her dying child:
"Her brain swelled up so badly and her lungs were so swollen that you could see all the veins in her chest."
Friend said the state of her baby attached to several wires and laying inside machines made her physically sick to watch.
"I would go in and sit with her for a little bit and I would just sit there and see her on these machines and see them breathing for her and I would throw up. It made me physically sick."
It took Friend months to build up the strength to share her story online. Now, she's determined that her Aliza's death is not in vain.
"Someone touched her without washing their hands or kissed her face while being a carrier of the virus. And anyone can be a carrier and not show signs! It's fatal until at least two weeks old and parents can pass it on to them as well! Please help us save more babies lives by sharing our story and NOT kissing babies."
Friend had already learned her daughter's adorable personality in the short time she was with her:
"Aliza was chubby and happy and cheeky. She was silly. If I was feeding her and her dad stopped looking at her, she would purposefully spit milk out of her mouth so he would have to turn around to wipe her face."
Earlier this week, proceedings from the case of another baby took a turn. A child had passed away as a result of a design error of the child's bed.
Oscar Abbey, seven months old, was discovered with his head caught in a hole on the side of a £610 bed in November 2016.
Craig Williams, 37, managed the company that created the bed: Playtime Beds, based in Sheffield.
Williams requested a Not Guilty verdict be given following two guilty pleas previously in the trial.
When specifically asked, he had told the boy's mother that the bed was suitable for "any age." His sentencing is set for Friday.
And in another heartbreaking situation, a mother was helpless to do anything when she had preeclampsia at 25 weeks.
This led to Meaganne Childre's daughter being delivered very early. At just a pound and four ounces, she passed just five days after her birth. The unfortunate incident took place just four months ago.
Please fill in your e-mail so we can share with you our top stories!
The information in this article is not intended or implied to be a substitute for professional medical advice, diagnosis or treatment. All content, including text, and images contained on news.AmoMama.com, or available through news.AmoMama.com is for general information purposes only. news.AmoMama.com does not take responsibility for any action taken as a result of reading this article. Before undertaking any course of treatment please consult with your healthcare provider.