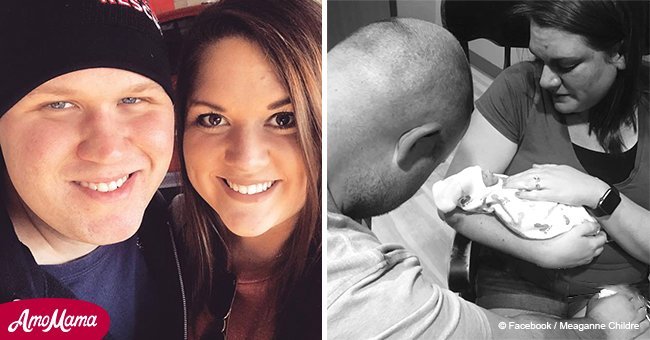 Mother shares courageous story of grief and fear after her little baby passed away
Meaganne Childre shared the heartbreaking story of how she lost her little baby only five short days after she was born.
In her sad recount made on Love What Matters, Childre revealed that she was dealing with preeclampsia at just 25 weeks and was doing everything she could to hold off the delivery.
But despite her attempts coupled with bed rest and the steroid shot, the baby, who was later named Charlotte Cate, had to be delivered.
She was born at just one pound and four ounces and under 12 inches long. Right from the start, odds were against Charlotte for survival.
Follow us on Twitter to learn more.
Consequently, only five days later after the beginning of her journey, 'she gained her angel wings,' as put by Childre in her article.
Childre and her husband, Casey, chose to let go of their daughter after around 45 minutes of chest compressions and several attempts to revive the tiny infant.
"We finally got to hold our sweet baby, bathe her, dress her, and tell her goodbye," Meaganne wrote.
She also took to Facebook to share the painful moments with friends and family. In her heartbreaking post, she wrote, 'Sunday afternoon our sweet Charlotte unexpectedly left this Earth and joined God in Heaven. While our hearts are absolutely shattered, we know she's no longer having to fight for her life.'
Childre explained that her girl went into a cardiac arrest during a simple procedure despite having shown normal conditions all day. She told that her daughter's 'little heart just couldn't take anymore.'
Coping up with the immense loss was never an easy task. She could not contain her grief. Some days she felt better while other days she simply would simply become overwhelmed by the loss.
Well-meaning people in her life were the ones who would often trigger her grief unknowingly by asking her about her baby.
However, this doesn't mean that she wants people to simply forget her daughter or that she is swiped away from her memories. She wants people to remember her daughter although she might have to battle with the reality of her loss every day.
It's never an easy thing for a parent to lose a child. However, we must sometimes come to terms with the sad grief if the tragedy strikes us.
Another new mom, Sophie Smith, went through a similar tragedy when she lost her triplets, who were born prematurely, within the space of 81 days.
Please fill in your e-mail so we can share with you our top stories!