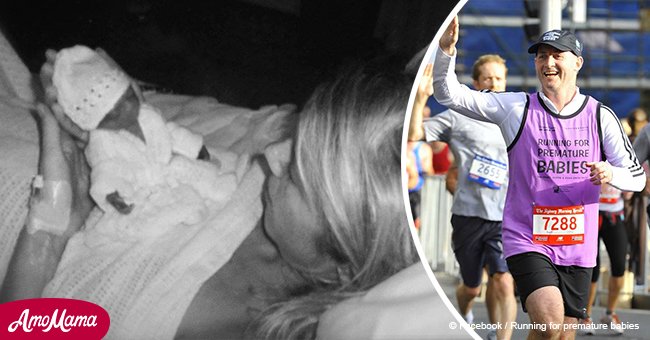 Mother lost newborn preemie triplets one-by-one and then her husband to a terrible disease
Sophie Smith's triplets, Henry, Jasper, and Evan, were born prematurely and died in the space of 81 days, while she also lost her husband, Ash Smith, five years after he was diagnosed with brain cancer.
Daily Mail shared the inspirational story of the 48-year-old woman from Sydney, Australia, who has dealt with significant loss in her life but stays optimistic by cherishing the love and happiness she got to experience, even if it did last long.
Sophie and her husband Ash started a charitable foundation called "Running for Premature Babies Foundation," after the passing of their triplets.
Read more on our Twitter account @amomama_usa.
Sophie and Ash Smith tied the knot in the year 2005, after dating for five years and six months later she became pregnant with triplets.
The couple was overjoyed, and the pregnancy went well initially. Problems arose at the 21st week of Sophie's pregnancy when Sophie's waters broke. The doctors told her that she would go into labor and the triplets would die, Daily Mail reported.
The heartbreaking news
Sophie and her husband were heartbroken from the news but were ready to face the challenge because they desperately wanted their babies to survive.
Five days later one of her sons, Henry, was born. He lived just for an hour and passed away. Sophie said that she would forever cherish the memory of holding her son and talking to him. She added that he spent his whole life in her arms and knew nothing but love.
"He gave the tiniest cry, really just a squeak, and I felt his heart beating against my own. His tiny hand squeezed onto my finger, and we spent one very beautiful hour together before he passed away."
Sophie Smith, Daily Mail, August 14, 2018.
Sophie's two other babies were born at the 24th week of her pregnancy, and they had a 50 percent chance of survival. Sophie had believed that her babies Evan and Jasper would live. Though the babies were tiny at birth, the couple had hoped that they would make it.
However, Evan passed away when he was ten days old after he suffered from a brain hemorrhage and was released from life support after the doctors advised them to do so.
Jasper, on the other hand, continued to fight and Sophie truly believed that he would be the survivor. The couple celebrated the little milestones, such as Jasper growing to weigh two pounds or when he first opened his eyes.
But baby Jasper suffered from a lung infection and died when he was 58 days old.
Sophie said that the doctors did all they could to save her babies, but as the technology was not as advanced as it today, they couldn't save them.
Sophie's support and friend
Throughout this ordeal, Sophie said that her husband was always by her side and gave her all his support in their time of grief. She said that he made her focus on the future.
Sophie said that it was her husband's idea to run a marathon and raise money for neonatal equipment and in spite of their despair, they focused all their energy on organizing the marathon, enlisting their friends to run with them.
Sophie and Ash's son Owen was born in 2008, 18 months after the death of their triplet's.
Just around when the couple had started celebrating the birth of their son, Sophie's husband Ash was diagnosed with a malignant brain tumor after he had started getting headaches.
Ash was given a year to live, and he had brain surgery by acclaimed specialist Charlie Teo. The tumor was removed, and in December 2010, the couple had another son, Harvey.
Sophie said that even though she was aware of the fact that her husband's cancer could return, she felt very blessed.
Ash fell sick again, five years after his first diagnosis, and died in February 2016. Sophie said that her husband died in her arms at their home.
The foundation
Three months after her husband's death, Sophie along with 520 runners participated in the Sydney half marathon, and the total money raised by her foundation from the ten years since its inception came up to an astounding $2.5 million.
Doctors have estimated that more than 4,500 babies have benefited from this money.
This race was extra special as it wasn't just for Henry, Jasper, and Evan, but in honor of Ash too. She said, "I ran that race faster than I ever had before and felt like Ash was right there beside me every step of the way."
Sophie has written a biography called "Sophie's Boys," dedicated to her husband and sons, the proceeds of which will be passed on to her Running for Premature Babies Foundation.
Sophie shared her support and comfort to the people who have lost their babies like she did, reassuring them that the love they have for their child will never diminish.
An actress devastated
Another mother, Ruthie Ann Miles, a Broadway actress, lost her baby just months after her older daughter was killed in a tragic car accident.
NY Daily News reported that Miles lost the bay she was carrying at the time of the accident, which occurred on March 5, 2018.
Miles and her friend Lauren Lew were crossing the street at Fifth Avenue in Park Slope with their children when Dorothy Burns drove over a red light and crashed right into the group.
Miles's four-year-old daughter, Abigail and Lew's one-year-old son, Joshua, died in the accident. Burns, who was driving the car, suffered from multiple sclerosis, seizures and failing health from the crash. She has been charged with manslaughter.
Please fill in your e-mail so we can share with you our top stories!