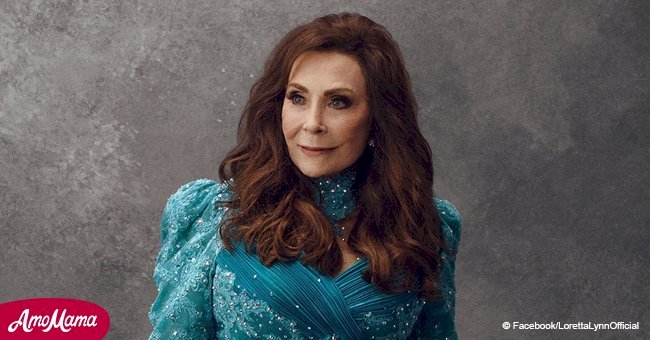 Loretta Lynn offers important update after her recent health scare
Fans of the famous country singer were given reassurance that the 86-year-old is doing fine.
Loretta Lynn posted a video to Facebook offering comfort to her fans after being hospitalized. The nature of her illness was still not clarified. The video is found below.
Lynn says that she called her new album "Wouldn't It Be Great" because she "feels and [is doing] great." She continued: "Everything's falling in place for me and everything's looking up for me."
Follow us on Twitter for more @amomama.
Although the short clip was filmed prior to her hospitalization, Lynn implied that it stands as is. She said her album has "given [her] something to really pick [her] up."
"[The album] really pushes me ahead just a little bit, make me get well faster. I do. I think it's helped me a lot."
She highlighted the importance of support:
"My fans. That's what keeps you going. They're not really fans, they're friends, you know?"
She added:
"You get so close to the people that you've known all these years."
The artist received lots of love and support immediately after she publicized her encounter with health issues.
Fans, as well as industry peers, sent words of comfort and called for prayers.
Like Lynn, fans expressed disappointment when she was forced to miss the CMT awards earlier this month. Lynn was honored with the 2018 Artist of a Lifetime award that night.
Sissy Spacek received the honor on Lynn's behalf. Spacek had portrayed Lynn in the film "Coal Miner's Daughter."
It was Lynn who selected her for the role. Spacek described their connection:
"We had an instantaneous friendship. It was bizarre. She says, 'Sissy, we were twins in another life.' And I go, 'Okay, yeah, I get that.' She helped me so much with the role. She opened her eyes to me, she opened her heart to me. We're god-sisters."
Back in 2012, Lynn shared the stage with her granddaughter for a performance.
11-year-old Emmy Rose took to the stage during one of Lynn's concerts. She sang "If I Die Young" by the Band Perry.
Lynn looked at her granddaughter with great pride as she sang her heart out to a cheering audience.
Source: YouTue/ LittleMissIGiveUp
With Lynn's latest album released in September, Emmy Rose can take her time in reaching the spotlight. She knows that her grandmother is still giving fans brilliant country music.
Please fill in your e-mail so we can share with you our top stories!