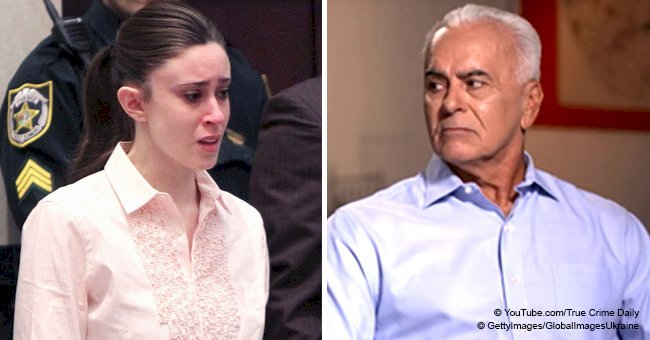 Casey Anthony's father opens up about his feelings towards his daughter
George Anthony says he and his daughter are "like oil and water." He is happy for her new relationship but wants nothing to do with her.
George and Cindy Anthony sat down with "Dr. Oz" to speak about his daughter. The two have interacted since her trial in 2011 but are now no longer on speaking terms.
Casey was infamously found not guilty of her two-year-old daughter Caylee's murder. However, she received four counts of lying to police.
The controversial verdict resulted in Casey being labeled as "the most hated woman in America." She now works as a researcher for a private investigator.
Follow us on Twitter for more @amomama.
Dr. Oz asked George how he would react if his daughter had another child.
"Knowing now that she could potentially possibly be a mom again, I hope she does better this time around than what she did last time. I hope whatever life she has left, that she makes something positive happen in her life. If she is granted a chance to have another child, I hope the child is strong, grows up to be a worthwhile part of society, and the person that she has the child with, I hope they are going to love her and the child immensely."
PEOPLE reported that Casey has a new man in her life who is aware of her past. An insider said he is "in his early 30s" and "works a professional job." The magazine also noted Casey's changed attitude towards having a child.
"Would I ever be part of that child's life? I don't think so," he said. "Because Casey and I right now, it is like oil and water—one of us is floating, one of us is sinking. We're just not connected anymore, and that hurts."
During Casey's trial, her defense team accused George of molesting Caylee. George strongly denied the allegations.
"I wish I could be part of her life, but I would never feel comfortable around her. I can't trust her. I can't trust the things she's going to say out there. I know she's given some other interviews that she said she was never going to do, and things she's said and done, it's just, it's wrong. She needs to just not be here anymore."
Cindy had previously stormed out of an interview she did with A& E back in May 2018. She asked George what he meant by "not be here anymore," to which he responded: "She doesn't need to exist anymore, as far as I'm concerned."
Then Cindy mentioned George's with desire to "have a relationship with Casey" over the years. He stated: "I'm trying. I've tried."
Cindy said, "deep down, I know he loves that girl a lot." She described George's attitude as "a defense mechanism."
"I would love to have something with her. I mean, I know she's moved on through life, I understand that she is seeing someone. They're very involved, which is great—I'm glad for her."
On the possibility of speaking to Casey, he explained.
"I just wish she would come forward, she would want to talk to me, just me and her. Someone can be on the sidelines, watch what was going on but give me and her a chance to sit down and talk."
He continued:
"I don't know how many questions I would ask her. I don't know how many times she could go over and over before I might believe her. I mean, I would hope she would want to meet with me, but I don't think she will."
Despite hoping for a meeting, George said he doesn't "like what she represents:"
"I don't like that she's got free will to do anything she wants to do anymore, which...might be a controversy here, but I hope she can be successful someday."
Source: YouTube/ E! News
He remarked:
"I would love her to be able to change somebody's life for the better and be a better person herself. Am I gonna ever see that? No. I'll never walk her down the aisle. I think any father gets joy and excitement and tears when they know they can walk their daughter ultimately down the aisle...I'll never have that."
Please fill in your e-mail so we can share with you our top stories!