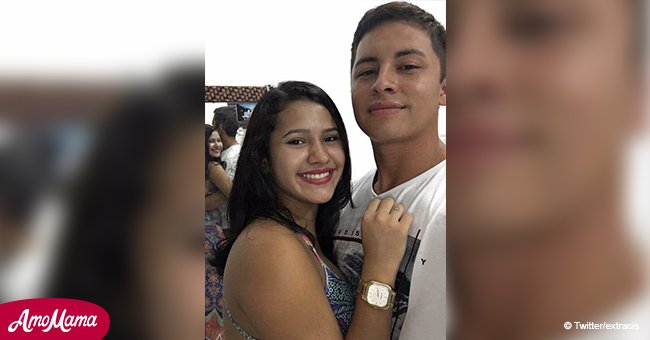 Woman takes a selfie with her boyfriend, but when netizens see the photo, they freeze in horror

At first glance, everything seems to be normal but when you look more closely, especially in the mirror at the back of the image, you notice something really creepy.
The image of a young couple has become a viral phenomenon. The young people decided to take a selfie together and then upload it to social media but they never imagined the effect that the picture would cause.
Twitter users expressed confusion and shared many GIFs of people making the cross sign and priests waving crosses. Read more on our Twitter account @amomama_usa
The picture looks to the casual eye like an innocent selfie of two young people hugging each other and smiling at the camera. But, what is scaring Internet users is what appears at the bottom of the snapshot.
The image of the two young people does not seem to have anything particular but when it is better observed, the couple is seen hugging while the photo is taken, and in the mirror in the background, you can see the girl's face, as if she has a 'double face'.
Even though the girl in the photograph looks at the camera with her back to the mirror, you can also see her face completely reflected in the glass, giving the illusion that she has two faces.
"I love my girlfriend even if she is Gemini", wrote the boy describing the photograph on his Twitter profile.
As you know, this zodiac sign is known as the twins because it describes these people as a double character, quite complex and above all contradictory.
Although we can deduce that this is a joke made with Photoshop, the truth is that it is not known if the image has really been modified.
This publication on Twitter has more than 50 thousand retweets and more than a hundred thousand likes.
A new video has also appeared on the social media and has shocked the public. It is about a "mysterious hand" that grabs the thigh of a child in a pool for a few seconds before disappearing.
In the post made by Eiyna, neither place nor time of the video shooting is indicated, but she wrote a message next to the clip that says: "The boy had to be lifted ... he was going to drown. Fortunately, his father carried him in his arms."
While the boy's father was trying to get him out of the water a creepy hand suddenly appeared and grabbed the child, but no one noticed it until they saw the video.
Please fill in your e-mail so we can share with you our top stories!