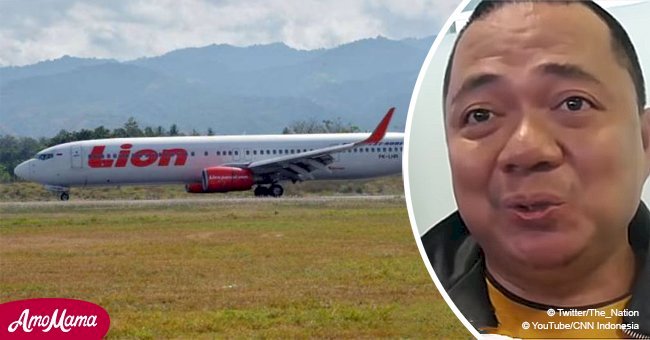 Guy who missed his flight survived Lion Air plane crash only due to traffic
For most people, good luck is not quantifiable as a tangible thing, but for one Indonesian man, it has literally been proven to be a matter of life and death.
Sony Setiawan should have been amongst the headcount of Lion Air Flight JT610 on Monday. It's the flight he usually takes with his colleagues to get to Pangkal Pinang.
Instead, Setiawan was caught in traffic and what should have taken him only a short while to reach the airport took an unbelievable three hours longer than normal.
However, six of Setiawan's colleagues, unfortunately, did make the flight on time and were on the plane when it went down in the Java Sea taking 189 souls with it, leaving Setiawan as the unlikely sole survivor due to luck.
Setiawan, a finance ministry official in Jakarta, was caught up in the city's frustrating traffic congestion and waited an extra three hours to get through a toll gate. This delay ended up saving his life. He said to AFP:
'I usually take (flight) JT610 - my friends and I always take this plane [...] I don't know why the traffic at the toll road was so bad. I usually arrive in Jakarta at 3am but this morning I arrived at the airport at 6:20 and I missed the flight.'
Setiawan was unaware that anything untoward had happened to his colleagues when he boarded a later flight to Pangkal Pinang on a different airline.
Journalists surrounded him when he arrived safely at his destination and he said that he cried upon hearing the news of the devastating tragedy that had befallen the Boeing 737.
'The first time I heard I cried. I know my friends were on that flight.'
His family, assuming that he had made his flight, as usual, feared the worst about his safety. His first call after landing was to them, reassuring his mother and grief-stricken family that he was okay.
'My family was in shock and my mother cried, but I told them I was safe, so I just have to be grateful.'
Flight JT610 left Soekarno-Hatta International Airport on time only to vanish from radar moments later. Then the Boeing 737 plunged 5,000ft into the Java Sea, taking its 189 passengers to a watery grave.
Novie Riyanto, an air transport official, said that the pilot had requested to return to Jakarta a couple of minutes after take off. Ten minutes later, the plane was gone.
All onboard are feared dead and rescuers have the grim job of trying to recover the passengers' bodies from among the crash debris. Body bags line Tanjung Priok Harbour as well as a dozen ambulances in a race against time.
Over 300 rescue personnel consisting of soldiers and local police are working alongside fishermen to recover the personal belongings and body parts of the victims.
After a plane crash over Cuba in May this year saw more than a hundred fatalities., people worldwide have begun demanding that older planes are taken off the roster due to their malfunctions.
While it is unknown what exactly went wrong with Flight JT610, the pilot's request to turn back makes for speculation that he encountered a technical glitch too.
President Joko Widodo asked Indonesians to pray for the victims of this tragedy, among whom were one child and two babies.
Sony Setiawan meanwhile has to live with the survivor's guilt that comes from being spared the tragic fate that took his colleagues and so many others.
Please fill in your e-mail so we can share with you our top stories!