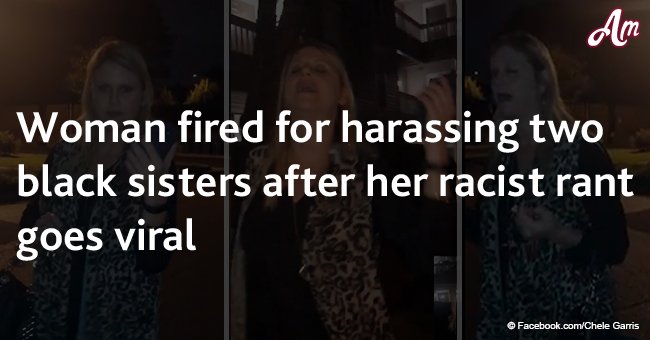 Woman fired for harassing two black sisters after her racist rant goes viral
A woman's racist diatribe against two sisters is captured on film and gets her fired.
Leisa and Mary Garris were waiting outside their Charlotte, North Carolina apartment for AAA when a woman accosted them, demanding to know what they were doing in the parking lot of the apartment complex.
The woman, identified only as "Ms. Westwood," demanded to know what the sisters, who are African-American - were doing there, and proceeded to berate them.
The sisters captured the harassment on film and posted it on Facebook/Chele Garris on October 26, 2018.
"Do you live here? Why do we feel that we need to be here like hanging out? Let's call 911. I want to make sure there's nothing going on here."
"I'M WHITE AND I'M HOT, BITCH!"
Westwood told the sisters that she paid $1,200 dollars rent, and demanded to know how much they paid.
The woman, whom the sisters say appeared to be inebriated, continued to rant, saying that she earned $125,000 a year, that she is white. She kept calling the sisters "bitch" and asked where their "baby daddy" was.
"DON'T FUCK WITH YOUR LIFE, BITCH! GET OUT OF HERE!"
The sisters repeatedly asked Westwood to stop harassing them and leave them alone, which she refused to do. She kept attacking them, telling them again and again that "I'm white, I'm beautiful." At one stage she told the sisters that she wasn't afraid of them "you can kill me."
Mrs. Westwood, who boasted continuously on the video that she earned $125,000 a year was fired by her employer, Charter Communications, when the clip of her rant went viral, garnering close to 2 million views in just 2 days.
WESTWOOD'S CONDUCT DECLARED UNACCEPTABLE
Patrick Paterno, director of public relations for Charter Communications' Carolina region, said in a statement:
"The incident recorded in Charlotte is a blatant violation of Charter's code of conduct and clearly disregards the company's commitment to inclusion and respectful behavior. As such, Ms. Westwood's employment with the company has been terminated, effective immediately."
Charlotte-Mecklenburg police revealed that 4 criminal summons have been issued for Westwood, which include two counts of communicating threats and two counts of simple assault.
BLATANT RACISM ON THE RISE
In another disturbing incident, a white passenger on a Ryan Air flight vented his spleen on his black seatmate. The man, David Mesher, later gave a televised interview on "Good Morning Britain," saying that he is not racist, and blaming his outburst on "grumpiness."
Mesher became the latest person to declare he is not racist after viral videos or tweets or social media outed them.
The list includes a New York lawyer who shouted at restaurant staff after hearing them speak Spanish; a Lyft passenger who went on a drunken, racist tirade about black people; and Roseanne Barr, whose tweet calling former Obama adviser Valerie Jarrett an ape cost the comic actress her sitcom - and possibly her career.
Mesher was onboard a Ryanair flight from Barcelona to London, trying to get to his window seat and Delsie Gayle, a 77-year-old black woman who was seated next to him, did not move fast enough.
Mesher started insulting Gayle, telling her not to speak to him in another language and calling her a "stupid ugly cow" and "an ugly black bastard."
Another passenger recorded the incident and shared it on social media. As a result, there was a demand that Mesher should be prosecuted.
"I probably lost my temper a bit and ordered her to get up. I'm not a racist person by any means, and it's just a fit of temper at the time, I think."
Barcelona Deputy Mayor Jaume Asens condemned Ryanair's response as "unacceptable" and has indicated that Spanish authorities may bring charges against David Mesher for racially motivated assault.
Please fill in your e-mail so we can share with you our top stories!