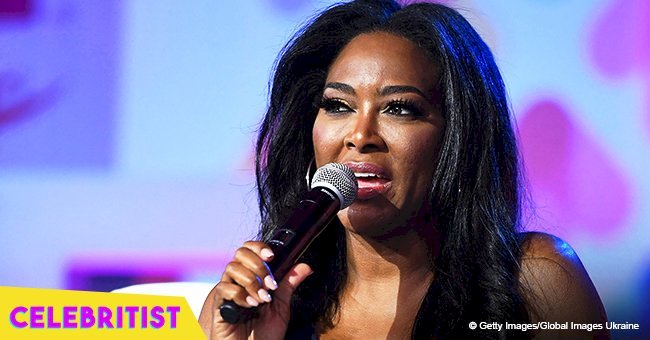 'This is NOT normal,' Kenya Moore reveals pregnancy health scare
Former "Real Housewives of Atlanta" star, Kenya Moore took to Instagram recently to share a scary update about her pregnancy. The condition could also mean Moore will have her baby earlier than expected.
Alongside a photo of her extremely swollen feet, the 47-year-old disclosed:
"I made fun of my swollen feet at @cynthiabailey10 party. Next day my tests came back for possible preeclampsia."
According to Mayo Clinic, preeclampsia is "a pregnancy complication characterized by high blood pressure and signs of damage to another organ system, most often the liver and kidneys. [It] usually begins after 20 weeks of pregnancy in women whose blood pressure had been normal."
Moore also revealed that although her condition is not normal, Baby Daly is doing well.
"I gained 17lbs in ONE week due to severe swelling and water retention, high blood pressure, and excess protein in urine. This is NOT normal!" she said. "I took more tests. Baby is fine, but if they come back higher, #babydaly will have to come same day."
The first time mom-to-be who is expecting her child next month also had some timely advice for other women in her condition.
"Staying positive. To my pregnant sisters please go to your visits and tell the doctor of any drastic changes. Thank God I have great doctors."
Moore announced in April that she was expecting her first child with businessman husband, Marc Daly. Since then, the former beauty queen has been keeping fans updated as the pregnancy progresses.
FAIRYTALE BABY SHOWER
On October 20, Moore and her baby bump took front and center at a fairytale-themed baby shower that held in Atlanta. In attendance were friends and family, including fellow reality stars, Cynthia Bailey, Kandi Burruss, and Porsha Williams.
Everyone was dressed in extravagant costumes to go with the theme of the day, and Moore even got to sit on a golden throne,. Daly, however, chose to go low-key in a blue tuxedo with a crisp white shirt worn without a tie.
An overjoyed Moore wrote on Instagram as she shared a group photo from the occasion:
"Words cannot express the joy and happiness I feel in my heart. So overwhelming to have a room of people who came to celebrate the impending life of #babydaly."
BABY DALY KICKING
Two months ago, Moore also shared a 4D ultrasound video of Baby Daly kicking around and explained,
"We see a high risk specialist who has this type of imaging and are so blessed to have access to this modern day miracle."
Here's wishing Moore all the best and safe delivery!
Please fill in your e-mail so we can share with you our top stories!