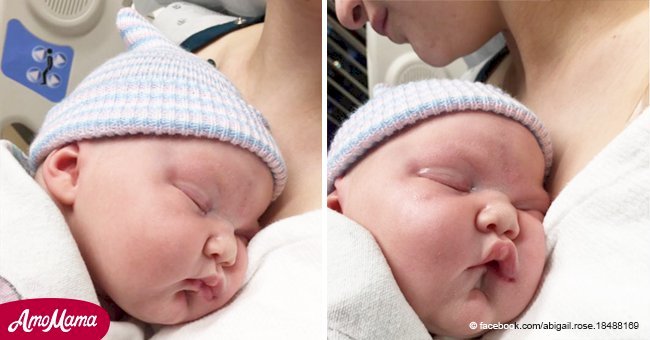 Baby dies 8 days after birth due to a kiss that infected her lungs and brain
The parents of a newborn baby want to warn about the potential dangers of allowing family and friends to touch and kiss their babies.
Abigail Rose went to Facebook to share the harrowing story of her little Aliza Rose, who died when she was 8 days old.
As published by the mother, the little girl was born completely happy and healthy; and was healthy for a day and a half before she was infected with a terrible virus.
The girl had contracted herpes simplex virus type 1 (HSV-1) probably through the kiss of an infected person.
The mother said that the virus adhered to the little girl's spine and completely destroyed her lungs and brain. Read more on our Twitter account @amomama_usa
As reported by Fox News, HSV-1 usually causes cold sores or small blisters in the mouth, eyes or lips. This virus is especially dangerous for newborns, as it can cause serious infections and even death due to their undeveloped immune system.
It is estimated that about 70% of American adults are infected with this virus and can spread it at any time, even if they do not show symptoms.
The virus can be spread to a newborn by kissing someone who has an active outbreak of the virus. Unfortunately, Abigail Rose was infected with the virus by someone close to her and could not survive it.
Therefore, now their parents want to raise awareness about this issue and help save the lives of other babies by sharing their story. The mother said she knew nothing about this deadly virus for newborns until it, unfortunately, came to her daughter.
It is recommended that adults wash their hands before touching newborns and people with cold sores should not be allowed to kiss small children.
It is also important that they are not in contact with people who suffer from any disease or who are not vaccinated, to avoid cases such as a 4-month-old baby who died of contracting meningitis.
The little child started becoming ill after daycare and by the following day, he'd died from having contracted meningitis. His parents are now urging people to stay up to date with their children's vaccinations.
Please fill in your e-mail so we can share with you our top stories!