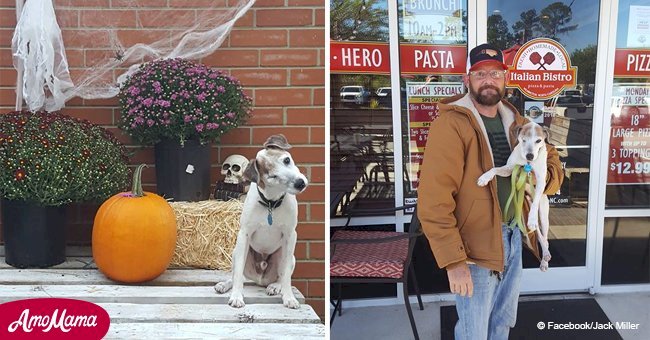 Community stricken by Hurricane Florence assists a dying dog in accomplishing his bucket list
A fourteen-year-old dog with terminal cancer is being given the time of his life, literally, by the people he calls family and their friends.
Jack, a 14-year-old Parson Russell terrier, was just a stray when he was discovered 13 years ago, wandering the streets of Maryland.
Jeremy Miller, his current owner, had just lost his dog when a friend called him about Jack. The then-divorced single parent was not even looking for another one. He says:
"I had just lost a dog so I didn't think I was ready for another but there was something about Jack. I was going through a rough time and he was my rock."
Jack quickly became an integral part of the Miller household and when Jeremy remarried, he moved with the extended family to Wrightsville Beach, North Carolina, and right in the path of Hurricane Florence.
Jack lost an eye to an infection a few years back, but he carried on living his best life as though nothing was the matter, not letting his missing eye hold him back from an adventure.
A few weeks back, the family noticed that the senior dog's breath had started to smell. When they tried to brush his teeth, blood came out of his mouth.
Panicked, the Miller family rushed Jack to the vet who diagnosed him with an aggressive tumor in his upper jaw. Even more devastating was the news that he would in all probability only live until Christmas.
"I'm a firm believer dogs sense if you're happy or sad and hopefully it will help him. Maybe it sounds silly to some people, but if he can stay positive and we get an extra month with him, we owe that to him."
The family decided to come up with a bucket list that they posted to a specially created Facebook page in honor of Jack, listing all the ways they could give him a proper send off.
The first thing on the list was a boat ride to an uninhabited island where Jack could run free. The Millers offered to pay for fuel, they only needed a volunteer with a boat to step forward.
Minutes later, they had a dozen boats at their disposal and even more people wanting to know how they could get involved.
The community stepped up and has amazed the Millers with their kindness, especially commendable as many of them are still battling the effects of Hurricane Florence.
"The outreach from the Wilmington community with everything we've been going through, people are still displaced … it's amazing."
The family intends on starting a foundation in Jack's name to offer assistance to other families standing at the precipice of losing their beloved furbaby by creating a last 'happy day' for them too.
"We're trying to make the most out of our time with him and when he's gone, we want him to live on, helping other folks … that's all we need."
In another feel-good animal story, a 51-year-old trucker used an old school bus to rescue 64 animals in the wake of Hurricane Florence.
Tony Alsup bought a yellow school bus and converted it into a place of refuge for pets caught in nature's deathly grip. He renamed it "EMERGENCY ANIMAL RESCUE SHELTER" and put his life at risk to save theirs.
Between the Millers' community and people like Tony Alsup, we know that the animals in their neck of the woods will never be abandoned for long. Our faith in humanity is restored for now.
Please fill in your e-mail so we can share with you our top stories!