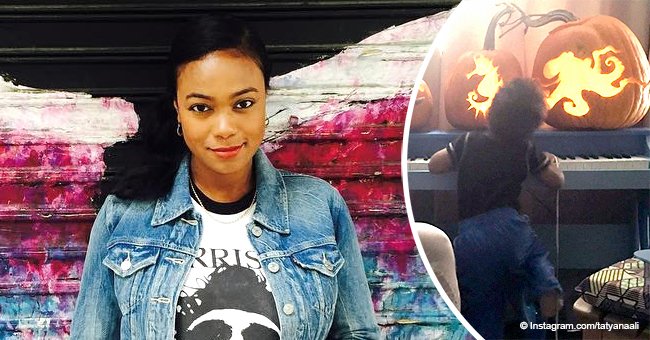 Tatyana Ali shares touching photo of son playing with 'marine life' pumpkins she carved
Tatyana Ali, the actress and singer best known for "The Fresh Prince of Bel-Air" and "The Young and the Restless," took to Instagram to share a photo of herself and her son playing with some Halloween pumpkins.
In the post, the actress appeared wearing a long dress while her boy put on blue sweatpants and a black shirt. The pumpkins were on top of a keyboard, and even though it's Halloween season, Tatyana chose a different topic.
Instead of the classic Jack O' Lantern design, the actress carved the pumpkins with a marine-life theme. The biggest one had an octopus while the one in the middle had a seahorse.
REACTING TO IT
For the caption, the proud mother revealed that her son, Edward, loved marine life, which was why she got the idea of changing the tradition a bit. As soon as she uploaded that image, her followers took to the comment section to share their thoughts.
Most of them praised Tatyana for her carving abilities while others just pointed out how beautiful her family is. "How were u able to cut it out so precisely? Pretty freakn amazing [sic]" wrote one user.
GIVING BIRTH TO HER CHILDREN
As People reported, Tatyana and her husband, Dr. Vaughn Rasberry, welcomed Edward to the world on September 16, 2016, at Cedars-Sinai in Los Angeles. After that, her life changed a lot.
"Becoming a mother has opened my heart to a bottomless depth of feeling. Through our son, I see the world with new eyes. We've completely fallen in love," pointed out the proud mother.
TALKING ABOUT HIS NAME
Giving more details about the baby's full name (Edward Aszard), the actress revealed that both of them were family names and that he was named after his grandfather and great-grandfather.
DIGGING INTO THEIR RELATIONSHIP
Tatyana and Vaughn got married in mid-2016 at the Four Seasons in Beverly Hills, California, reported ET Online. They met each other on eHarmony, an online dating website.
The actress pointed out that it was her first time dating online. After contacting each other, they used to write letters and, months after that, they decided to make a Skype video call. Soon later, they met, fell in love, and the rest is history.
Please fill in your e-mail so we can share with you our top stories!