Kate Middleton pulled off a casual blazer look inspired by stylish sister-in-law Meghan Markle
It looks like the Duchess of Cambridge is taking a page out of Duchess Meghan's fashion book.
Duchess Kate was seen rocking a very "Meghan" outfit on a visit to Coach Core in Essex with her husband, Prince William, and the photos were posted on Twitter/@daniellestacey by a royal correspondent.
It was noted that the Duchess of Sussex had been seen in a similar checked grey blazer and skinny black jeans on her visit to Dubbo Airport in Australia.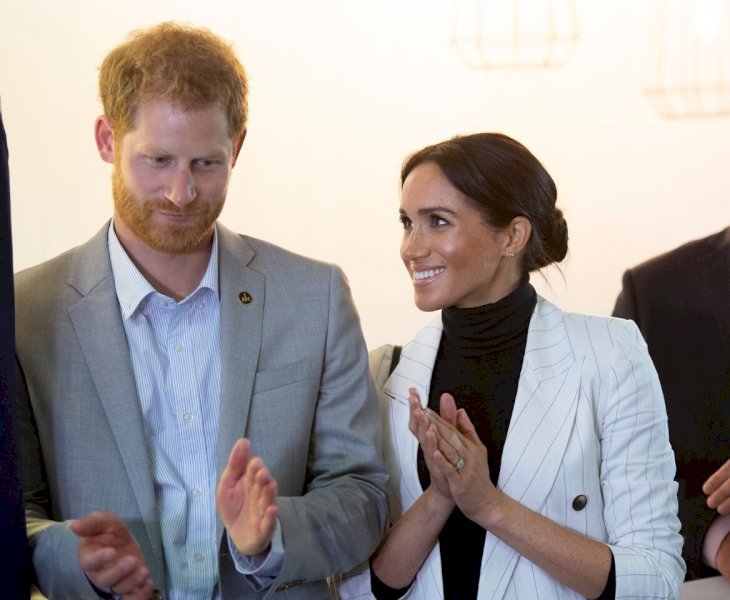 PROMOTING A ROYAL FOUNDATION PROJECT
The Dukes of Cambridge were in Essex to observe the progress of a Royal Foundation project: Coach Core. This consists of an apprenticeship programme that helps young people between the ages of 16 and 24 who are not involved in an education program or employed.
Coach Core offers these young people the opportunity to train for a career in sports. This is a project close to the Duke's heart, and he was eager to participate in the coaching activities.
Duchess Kate has just stepped out in Essex and we're LOVING her chic grey blazer. Check out the full look here >> https://t.co/sCx9Nb48kW pic.twitter.com/8dFFRU7hug

— HELLO! (@hellomag) October 30, 2018
THE DUKE: LOOKING CASUAL AND SPORTY
In keeping with the day's casual ambiance, Prince William wore a casual gray sweater over his blue Oxford shirt and no tie. The sporty look suited the Duke's rangy figure, and he paired the sweater with black pants and shoes.
The Duke and #DuchessofCambridge have arrived at Basildon Sporting Village to visit @WeAreCoachCore Essex pic.twitter.com/mqnHDE8a75

— Danielle Stacey (@daniellestacey1) October 30, 2018
ALL EYES ON DUCHESS KATE
The Duchess, who gave birth to her third child just 6 months ago, showed off her svelte figure in a pair of black skinny jeans and complemented them with her Russell & Bromley Aquatalia 'Fallon' Chelsea black suede boots 
The #DuchessofCambridge steps out in Basildon, Essex wearing a polished, low-key outfit consisting of @SmytheJackets blazer, black jeans and @randbofficial boots. Earrings by @kikimcdonough https://t.co/OaMbHK1UyD

— Yahoo Style UK (@YahooStyleUK) October 30, 2018
A BLASER JUST LIKE MEGHAN'S
The Duchess of Sussex has had an enormous influence on fashion with her elegant take on the classics, and she seems to have influenced her sister-in-law too. Duchess Kate was wearing a houndstooth-check blaser by Smythe over a black polo neck jumper. 
Kate is wearing a check blazer, a black rollneck & skinny jeans, with her Russell & Bromley ankle boots

— Danielle Stacey (@daniellestacey1) October 30, 2018
LOW KEY MAKEUP, NATURAL HAIR 
In keeping with the sporty theme of the event, Duchess Kate wore natural makeup, with just a little smokey eyeshadow to bring out her beautiful brown eyes. He long brunette locks were loose and styled into soft waves.
In contrast to a recent gala dinner where she wore a tiara and her late mother-in-law's famous Collingwood pearl earring, the Duchess wore a pair of classic white topaz and diamond cushion drop earrings.
Read more on Twitter Amomama USA.
The Duke and Duchess of Cambridge arrive at @WeAreCoachCore in Essex. The apprenticeship programme helps young people who are not in education, employment or training to build a career in sports coaching. pic.twitter.com/JHEN3SM8Uy

— The Duke and Duchess of Cambridge (@KensingtonRoyal) October 30, 2018
DUCHESS MEGHAN WORE A "KATE" DRESS IN NEW ZEALAND
It might be fair to say that if Duchess Meghan is influencing Kate's fashion choices, she is also following her sister-in-law's lead.
Duchess Meghan Markle and Prince Harry attended a reception at Government House on their visit to New Zealand.
On that occasion, Duchess Meghan delivered a speech in honor of the 125th anniversary of women's suffrage in New Zealand.
The Duchess wore an elegant navy blue midi dress by Gabriela Hearst, very similar to Duchess Kate's black Preen gown, which she also owns in an eye-catching red.
Duchess Meghan wore her dress unbelted, and with a dainty poppy pin on her shoulder, while Duchess Kate usually accessorizes her gown with a brooched belt.
Both gowns are cut to show off the shoes in the front and skim the floor at the back. Duchess Meghan wore a pair of Stuart Weitzman Nudist sandals and a Dior satin clutch bag.
Designers and brands that have been worn by the Duchesses have seen their clothes fly off the shelves as women everywhere flock to copy the Royal duo.