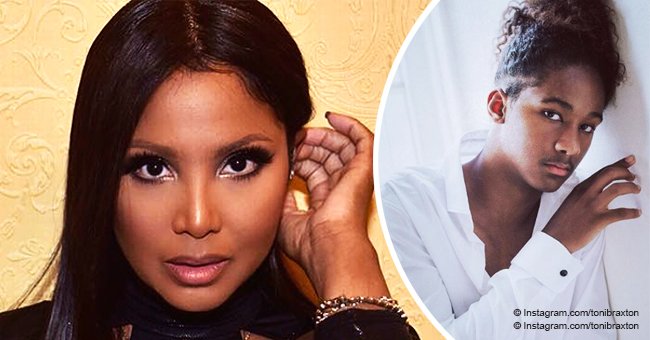 Toni Braxton's son Diezel looks all grown up in photo with mom and Birdman
Diezel Braxton is all grown up and no longer the shy, autistic child that used to hide behind his mother at red carpets. He's now a professional model and actor, and he just addressed all the comments from haters in an epic photo alongside his mom, Birdman, and more friends.
The 15-year-old charming boy made a pause from his model shots on Instagram to share a candid photo alongside his mom, Toni Braxton, her fiancé, Birdman, and some of his fellow co-stars from the upcoming independent film "ANT."
Both Toni and Diezel wore black in the picture, sitting on a row on the floor while looking somewhere to the side of the camera. Braxton had one hand resting on Diezel's leg and the other mirroring her position but on her fiancé's.
The youngest son of Toni and ex-husband Keri Lewis, took the caption to address some of the constant comments he gets on his page from haters and trolls, proving that he's aware of them but remains unbothered about it.
"Diezel doesn't smile in pics.

Diezel is only famous because of his mom

Diezel is only famous cause he had autism

Diezel should cut his hair

Ya ya we know. #ANT"
DIEZEL, THE ACTOR
Following the pic with his mom, Diezel posted a poster of his upcoming movie "ANT," of which there's still not much information about on the web. The poster shows the silhouette of a man standing in the middle of a room with the light filtering through the windows.
Toni, always the proud mom, also shared the poster, and captioned it:
"So excited that @diezel.braxton is starring in the new film "ANT"!!! I am soooo proud of you Diez!"
OFF THE SPECTRUM
It's been an incredible year for Diezel. Just a few months ago he signed a contract with Wilhemina Models, one of the most renowned model agencies in America.
The young man is proving that he has overcome his early diagnosed autism, a condition that according to experts, never goes away entirely but can be treated to teach the children how to engage and lead a more "normal" life.
"I am one of the lucky parents. Early diagnosis changes everything. I will tell you this. I will shout it from the rooftops. My son Diezel is off the spectrum. Off the spectrum being autistic," Toni announced to the world three years ago.
And continued:
"He's our social butterfly. He's the one who plays with friends and hangs out all the time. Very, very fortunate. And I don't like to think there's anything wrong with our babies. I just think they learn differently."
While some people found Toni's words to be misleading for other parents with autistic children, all seem to point out that Diezel has left the spectrum behind.
Please fill in your e-mail so we can share with you our top stories!