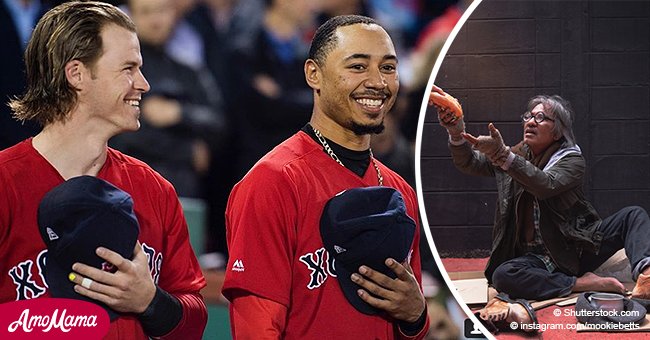 Mookie Betts delivered food to the homeless at 1 a.m. after Game 2 win

The Boston Red Sox star was photographed only hours after scoring a big win with his teammates in the World Series doing charitable work instead of celebrating, and he has received a lot of praise over it.
Many sports fans might wonder what do their admired players do after achieving a triumph in a competitive event, but few could have imagined what this young baseball star chose to do after a very successful game.
If 26-year-old outfielder Marcus Lynn "Mookie" Betts is not one to make a fuss over his charity work, his friends and the people who know him well are making sure that his kind acts don't go unnoticed. Read more on our Twitter account @amomama_usa
The very same night when Betts worked hard with his team to beat the Los Angeles Dodgers in Game 2 of the World Series, he was spotted discreetly helping deliver food for homeless people at 1 a.m.
CAUGHT IN THE ACT
"Little birdie told me an amazing story. This was the scene last night around 1am out in front of the Boston Library. Trays and trays of food fed the homeless. The man that delivered the food wasn't looking for attention or praise BUT deserves it. God Bless you Mookie Betts."
-Lou Merloni, Twitter, October 25, 2018.
As Simple Most reported, local club host Mike Winter who allegedly has a friend in common with Betts, noticed the baseball player in low profile helping out outside the Boston Library and approached him to say hello and take a picture of him.
KEEPING A LOW PROFILE
Winter posted an image of Betts handing out food trays for the people in need to his Instagram stories, and in turn, radio host Lou Merloni shared the snapshot in his Twitter account considering that the sportsman deserved recognition for his good deed.
"Nowadays people do stuff because they want recognition. "[Betts] didn't even want recognition. He wasn't being followed by cameras like people do on Instagram. This is just him being himself," Winter told the news outlet.
REACTIONS IN SOCIAL MEDIA
It didn't take long for the news to become widespread after Bett's fans set up to the task of sharing and commenting on his altruistic spirit all over social media, and some of them remembered the player's humble background and values.
"Love that. Not surprised. He comes across as very humble and thoughtful; not surprised that empathy's high on his list of character traits. Boy, do we need more pro athletes like Mookie," wrote Joe Khirallah.
"That kind of stuff starts at home. He gets it," replied Andrew W. Lolis, while "Max Muscle Saugus" added: "Absolutely brought up the right way."
One of the Twitter users commenting on Merloni's post shared a video reminding that it was not the first time when Bett has joined a charitable effort to feed the homeless, as he delivered pizzas to people in this difficult situation back in 2015.
GIVING BACK TO SOCIETY
Famous and wealthy people frequently use their platforms to help others and raise awareness on the most delicate and urgent issues, and this is a good way for them to give back to society and help make a difference in the world beyond themselves.
While we want to believe that these efforts come from their hearts and not as an attempt to bring attention and publicity, it is helpful to make these cases known to make a good example out of it and inspire others to do what they can for the cause of their choice.
Take for instance, Hollywood star turned British Royal Meghan Markle, known now as the Duchess of Sussex, who has reached a position of power she never expected and wants to use it to change the lives of people in need for the better.
THE DUCHESS OF SUSSEX
In her first solo project as part of the royalty, Markle focused on a group of displaced families who share a community kitchen in order to be able to cook proper food while they find out new homes after their old ones burned down in a London fire.
The Duchess is helping collect funds and was trusted with writing the foreword for a cookbook inspired in the Hubb Community Kitchen.
Back in September, the 37-year-old met the women when she visited the kitchen at the Al-Manaar Muslim Cultural Heritage Centre in January. There she spent time cooking with some of them.
Please fill in your e-mail so we can share with you our top stories!