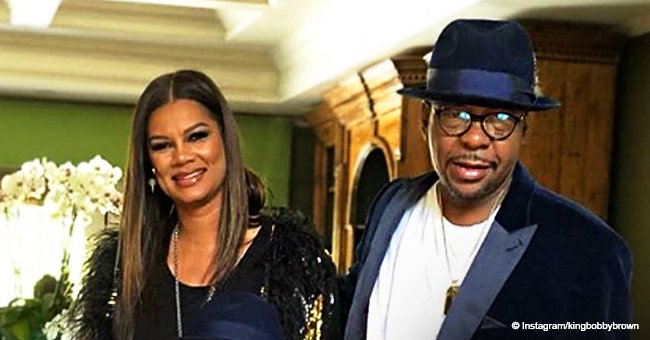 Bobby Brown shares throwback photo with wife of 6 years & their 3 kids who aren't babies anymore
Bobby Brown, the singer and songwriter who was married to Whitney Houston for more than a decade, took to Instagram to share a throwback photo of his family wearing elegant outfits.
In the post, Bobby was posing in white pants, a matching shirt, and a black blazer that he combined with his hat and glasses. His wife, Alicia Etheredge, put on a black dress and covered herself with a shiny golden coat.
Three of the couple's children, Cassius, Bodhi, and Hendrix Brown were in front of their parents in black or white outfits, too. One of the things that Bobby's followers noticed almost immediately was their physical similarities.
REACTING TO IT
Most of the people who shared their thoughts on the comment section thanked the singer for posting such a special moment online while others pointed out that their children were the perfect blend between Bobby and Alicia.
DIGGING INTO THEIR RELATIONSHIP
According to AJC, the couple met when they were very young and quickly became friends. In 2012, after doing several different things with their lives, dating other people, and even having children, they tied the knot.
Before marrying Alicia, Bobby was in a relationship with Whitney Houston. One of the most interesting aspects of their current relationship is that Alicia was one of the guests at bobby and Whitney's wedding.
FINDING AN UNUSUAL WAY TO PROPOSE
Another striking aspect of their romance is that Bobby proposed to Alicia while performing at the Funk Fest in Jacksonville, Florida two years before walking down the aisle in a beautiful ceremony in Hawaii.
THE INFLUENCE OF FAITH IN THEIR RELATIONSHIP
In an interview that the couple had with Essence, they revealed that faith was at the center of their relationship, something that differs from the past "bad boy" image that Bobby used to show when he started his music career.
"You can't do anything without God. You can't wake up in the morning, you can't go to sleep. And, if you're going to sleep with the right person, then you're going to wake up in the right frame of mind and God's light," said Bobby.
He added that he was glad to have Alicia by his side as they believe in the "same thing" and they are "spiritual." Bobby pointed out that they didn't choose a religion but to believe in a higher power.
"We walk in gratitude, that's so important for us. It's really nice when you find a partner that you're in sync with on that, anything else just stop the struggle," revealed Alicia.
Please fill in your e-mail so we can share with you our top stories!