6-year-old girl hospitalized after bullying leads her to be sick several times a night
After repeated attacks from bullies sent her daughter to the hospital sick with anxiety, this outraged mother shared the girl's story to denounce how school authorities failed her and to urge others to join efforts against harassment.
On October 29, 2018, 29-year-old Carrie Golledge, mother of 6-year-old Sophia, took to Facebook to post a photo of her daughter sleeping in a hospital bed and wrote an open letter about what bulling can cause in its victims, receiving lots of support.
Featuring the hashtags #beatthebullies and #timeforchange, Golledge's words resonated with thousands of people who in a matter of hours shared the publication more than 200.000 times.
"Please help us share her story. Let's show her the support her school couldn't afford her," Carrie asked the readers of her post, and they didn't disappoint. Read more on our Twitter account @amomama_usa
"This is my child who has stopped eating, has cried herself to sleep, had anxiety so severe she's up sick over 20 times in an hour through the night..."
-Carrie Golledge, Facebook, October 29, 2018.
Poetically starting every sentence with "this is my daughter," the mother from Tiverton, Devon, UK, recalled all the abuses Sophie endured and how ineffectively the school authorities acted or failed to do it to protect the targeted child.
Carrie inserted quotes from the school personnel that show how they took the side of the bullies when they refused to believe Sophie and made her feel that she was the problem.
Also, the woman shared how the parents of the abusive children who emotionally attacked her daughter publicly mocked Sophia for being over sensitive in their eyes, instead of trying to change their children's behavior.
"This is my child who was told off for 'telling tales at school.' This is my child who has been mocked on social media by the bullies parents for just having such a pure heart..." wrote Carrie.
Understanding that the abuses her daughter suffered are not limited to her case but are part of a larger social problem, Carrie wanted to use Sophia's painful story to show others that bullying has serious consequences, and to work towards ending it.
"This is my child who is one of too many that are going through this […] This is my child who doesn't want this to happen to anyone else. So this is my child's story we are sharing but she is one of many…too many!" Carrie insisted.
"This is horrific! Poor little lady! Sending you all massive hugs! The school should be reported to ofsted! She is 6 for goodness sakes!! Massive hugs," user Cheryl Gommery commented on Carrie's post.
"This is so unfair, hate bullies, they should be vanished, hope she goes back to normal very soon," added Maya Andrews.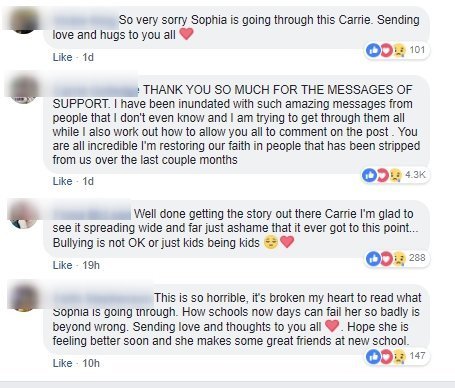 In replied to some of the supportive comments, Cherrie revealed that Sophie is getting better and she is now going to a different smaller school where things seem to be going fine, but she is still upset about how her case is being ignored by the school district.
"It's all being brushed under the carpet," a frustrated Carrie wrote to one of the people giving her support. Since Carrie's post became viral, Devon Council is reportedly opening an investigation on the matter.
Emotional harassment is serious enough and it can cause lifelong damage to a child that becomes target of it, but apart from it, if it is not addressed and stopped, it will in many times escalate to physical violence.
10-year-old hearing impaired girl, Amber Yoon, from Perth, Australia, suffered one of the most brutal cases of bullying when she was hung from a tree.
Yoon, was lifted by the neck with a rope, rendering unable to breath, and she would have lost her life to bullies if it wasn't for a teacher who happened to walk by the child in time to free her.
Bullying is not a problem that should only concern school staffers and the parents of the survivors. Parents of abusive children must also step in in order to make a difference. Luckily, some parents are aware of the problem and make sure to do something.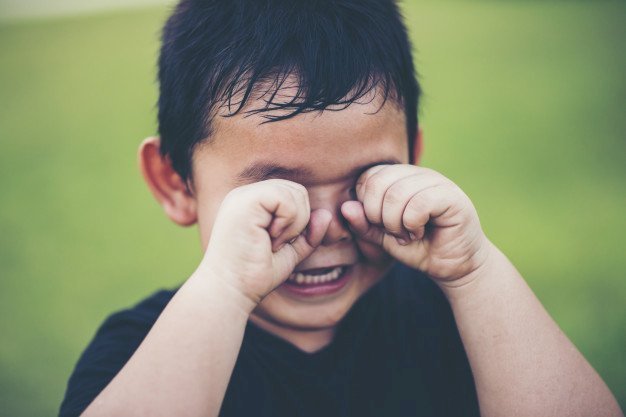 Take, for instance, the story of a father who discovered that one of his daughters was harassing overweight children in her school and was quick to teach her a lesson and let her know that he wasn't going to accept her bullying attitude.
When the single father received a call from one of his daughter's schoolmates' mother telling her that her daughter had attempted to commit suicide by cutting her wrist after being fat-shamed by the man's daughter, he was horrified.
The father knew he had to do something before it was too late, and he sent a clear message to his daughter about how her actions had consequences, by taking away all of her electronics and privileges, and asking her to apologize sincerely to her victim.