Meghan suffers a 'Diana moment' as fans thought she flashed underwear due to an optical illusion
Meghan Markle is on the last leg of her Down Under tour and she's still making magic. In fact, much of the media believed her illusions were real.
The 37-year-old stepped out in Rotorua, New Zealand to greet fans. But they got tricked as Markle appeared to give them a small treat.
Wearing a blue Givenchy pleated skirt, the Duchess of Sussex had a "Diana moment." It could have put her in trouble.
Follow us on Twitter for more @amomama. 
Meghan Markle steps out in a see-through skirt: https://t.co/I1w4pFrGun pic.twitter.com/xqCGYgvgrw

— E! News Video (@ENewsVideo) October 31, 2018
Her legs appeared to be showing through the skirt's striped design as she walked. The illusion reached high up on the royal's legs.
That wasn't all. It also looked like Markle's undies were clearly visible, a feature that Princess Diana did not suffer.
The beloved late princess went through a fashion faux pas in 1980. She wore a sheer lace skirt and her legs were clearly visible in a photograph that became famous.
Markle's daring look, however, can be explained through strobing effects and a color-contrasting illusion.
According to the Daily Mail, stylist Lucas Armitage explained to FEMAIL:
"Certain fabrics with a heavy woven effect can strobe on camera. Strobing is something you may have noticed on TV when someone is wearing stripes or check patters and this causes an optical illusion which creates a moving flickering look."
Meghan Markle made headlines for wearing a see-through skirt on the final day of the Royal Tour. https://t.co/rS4IwTdvUO pic.twitter.com/LSKA8kTthQ

— E! News (@enews) November 1, 2018
She added:
"I suspect this is what is happening here and the fabric is thick heavily woven piece creating a camera strobe and the illusion its sheer."
Thus, the thick blue stripes with the thinner white strips gave the sheer effect. Meanwhile, the point at which the lighter stripes became darker made it look like we could see underwear.
The pregnant Duchess paired the skirt with a Givenchy navy crew neck blouse and matching Manolo Blahnik BB heels.
Meghan Markle Just Wore a Gorgeous, Completely Sheer Skirt to Wrap Up Her Tour https://t.co/0SwqvSniS5 pic.twitter.com/HtAe26nV0Q

— Cosmopolitan (@Cosmopolitan) October 31, 2018
She and Prince Harry later visited the Rainbow Springs Kiwi Breeding programme.
Another piece that stood out for Markle was given to her while on tour but it had taken weeks to be handmade.
Again in Rotorua, Markle accepted a large, flax cloak from Norma Sturley of the Ngati Whakaue tribe.
The traditional Korowai cape featured brown, blue, white, and gold feathers especially suited for the Duchess.
Sturley said she adores the Duchess for her values, love, hospitality, "influence, dignity and strength. All signs of great leadership."
The cloak was also made to give Markle's unborn child "strength, warmth, and aroha (love.)" In that way, it worked as a form of protection.
Harry also received a cloak. His came in white. Both cloaks were adorned with meaningful symbols.
And in a less bold look, Markle took a fashion step back while surrounded by louder, more extravagant costumes.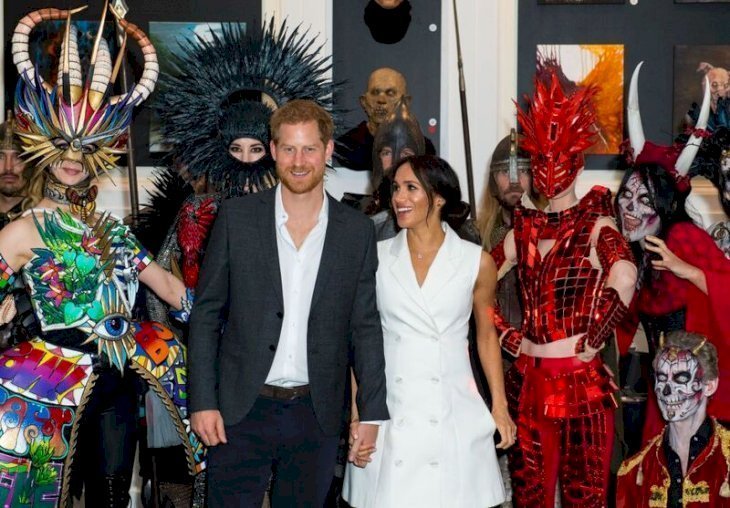 She and Harry went to Wellington's Courtenay Creative for an art event. Markle wore a white blazer tuxedo dress that reached her knees. Around them, there were Orcs, monkeys, ghouls and ghosts and other colorful displays.
The couple will soon be returning to the UK as they wrap up their tour. Having visited Tonga, Fiji, Australia, and New Zealand and showed off so many looks, Markle certainly went out with a bang with her trickery.