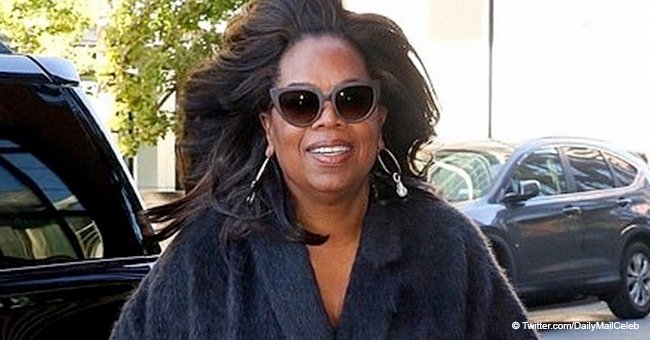 Oprah flaunts slimmer figure in navy cashmere cape and high heels after losing 42 pounds
Oprah Winfrey looks stunning rocking a fashionable cape as she runs errands out and about in New York City. The media mogul played an essential role in the rise of the "Weight Watchers" program, claiming that it was thanks to it that she lost 42 pounds.
Oprah Winfrey knows how to rock any look, and when she stepped out in New York earlier this week surrounded by bodyguards, the 64-year-old looked stunning in a navy-blue cashmere cape that she wrapped tightly around her body.
She completed the look with matching ankle boots, cat-eye sunglasses and dangling earrings that made her look sensational. Her hair was loose and blowing into the wind, as she smiled at the cameras while enjoying the cold weather of the Big Apple.
WEIGHT LOSS
While her figure can't be appreciated in this outfit, Winfrey slimmed down the past year after losing 42 pounds, and she has managed to maintain the same weight, as she revealed to People in January, saying:
"Usually every Christmas [I'm] up eight to 12 lbs. So, to be able to gain nothing during Christmas and watch people eat cronuts in front of me, I consider that a victory for someone who has been an emotional eater and struggled with up-and-down weight loss my whole life."
The "Wrinkle in Time" actress started her weight loss journey in 2015 after joining the Weight Watchers program and buying the 10% of the company.
"I really want to get more fit and stronger and see if I can blow it out at 65. Blow it out!" she said, "My goal to be 65 and you all say, 'What happened to Oprah? She is ripped.'"
THE OPRAH EFFECT
After Winfrey joined the program and announced it to the world, the company's experienced the "Oprah Effect," where every single product she endorses boost its sales. The company reported 1 million more members in a year and revenue up by one-fifth.
And a few months ago, the company changed its name. Now they're just "WW" as they have moved their focus from weight to wellness, adding the tagline "Wellness that Works" to promote a full experience that will help its clients to achieve their weight goals while working on their mental health as well.
HEALTH SCARE
Oprah recently opened about a health scare that made her reflect on how often we take our bodies for granted.
In a column for the November issue of "O, The Oprah Magazine Magazine," the media mogul recalled an occasion where she noticed her neck was swollen and thought her life was in danger after googling for the possible causes of it. "For the next four hours, I thought the worst," she wrote.
But after going to the doctor that same afternoon, she was told her salivary glands were blocked. The doctor recommended her to drink water and suck on some lemons, and after two days the swelling was gone.
"Our bodies are amazing. And too often we are not grateful for their perfect functioning," she stated. "As they say, you don't appreciate your health until you no longer have it."
Please fill in your e-mail so we can share with you our top stories!