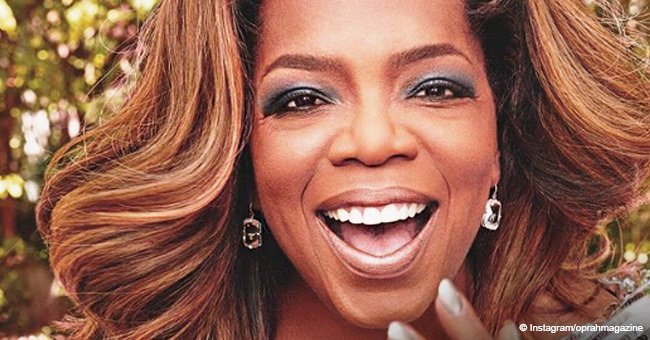 Oprah stuns in tight yellow trousers in recent pic after revealing health scare

The media mogul, Oprah Winfrey recently opened up about what she learned from a health scare, but she's looking better now in this picture of her wearing a fitted pair of yellow pants. She also has another good news to share with her fans.
Winfrey channeled her inner child in a V-neck sweater top and mustard yellow pants with black and white lines by the side. She complemented her outfit with trendy gold sneakers and wore her hair loose.
The 64-year-old looked much younger as she posed on a wooden swing that appeared to hang from a tree.
CAUSE FOR ALARM
Winfrey sure has a lot to be grateful for. In a column for the November issue of "O, The Oprah Magazine Magazine," she detailed a health scare experience that left her with a valuable lesson. Winfrey was scrambling eggs for a Friday breakfast when she noticed a bit of soreness in her neck.
"The area under the left side of my chin felt tender. In the mirror, I could see it was swollen. By the time I finished making breakfast, the swelling had increased. It looked like a goiter that had come out of nowhere. I immediately Googled 'swollen lymph gland causes.' None of the results was good."
The "Oprah Winfrey Network" boss called an internist and booked an appointment for later that afternoon and "For the next four hours, I thought the worst," she wrote. Winfrey wondered what could have caused the swelling, and for how long it may have been growing.
GOOD NEWS
Her head was filled with the worst thoughts, but when the doctor would finally give a diagnosis, it was less severe. Winfrey shared:
"What she actually said was, 'I think your salivary glands are blocked. Go home, drink plenty of water, and try sucking on some lemons to stimulate your salivary ducts.'"
Still doubtful, Winfrey sought a second opinion and received the same diagnosis. She then carried out the doctor's instructions and "By the next day, the swelling had gone down measurably. In two days, it had all but disappeared."
Winfrey said the incident thought her to stay conscious of "all the wonders" of the human body.
"Our bodies are amazing. And too often we are not grateful for their perfect functioning," she wrote. "As they say, you don't appreciate your health until you no longer have it."
LIVING TO THE FULLEST
Following the scare, Winfrey lived it up at the Los Angeles leg of Beyoncé and Jay-Z's recently concluded tour. Along with her best friend, Gayle King, the philanthropist bopped to the beat of The Carters' hit tracks at the Rose Bowl in Pasadena.
MORE GOOD NEWS
It's a good thing Winfrey is feeling well, because, with the latest development in one of her business ventures, she's going to need to be on her toes. It was reported on October 9, that her magazine, the same one in which she detailed her health scare, is finally going digital.
The publication, a joint venture between Hearst and Winfrey's company, Harpo Inc, first launched in print about 18 years ago. It had always held a section on Winfrey's Oprah.com website but will now be getting its dedicated site, OprahMag.com
Peter Kreisky, a magazine consultant, has however warned that there might be challenges ahead. "It's become more and more difficult to attract readers because there are so many alluring alternatives out there," said the expert. "You need a clear and distinct value proposition."
With Winfrey's clout, and her social media following of over 70 million (combined Facebook, Twitter, and Instagram), it's safe to say she's got this covered.
Please fill in your e-mail so we can share with you our top stories!