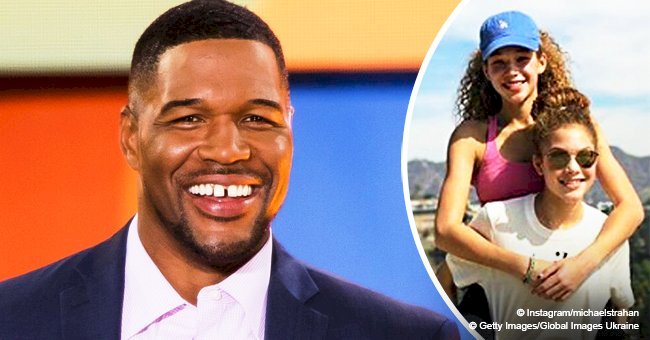 Michael Strahan shares picture of his beautiful twins on their 14th birthday
Michael Strahan's youngest two girls are growing up fast. For their 14th birthday, he posted the pic below.
The popular tv personality and former football player is a proud father. He has four children amongst them his twin girls.
Strahan often shares images of his family. The first two of his children he shares with his first wife while the twins are from his second wife.
His kids are 12-year-old twin daughters Sophia and Isabella, son Michael Jr., 21, and daughter Tanita, 24. They all get along with each other.
Strahan's twin daughters split their time between North Carolina and South Dakota. Their mum is Jean Muggli.
Despite being divorced from their mother, Strahan ensures he is very much involved in their lives. He stays in contact with the twins and visits them often.
"Sometimes life gets serious for us as adults, but looking at my kids, it lets me know that you're allowed to have fun — you're allowed to have mindless fun," ~ Michael Strahan
​
Strahan received a Father of the Year award from The National Father's Day Committee in 2017. He attributed his strength to his children saying they keep him active.
THE TWINS ARE GROWING UP
Isabella and Sophia were once two cute little girls who appeared on their dad's Instagram in matching pink bomber jackets. Now they are gorgeous young women.
After their dad posted a pic of them in bikinis, fans were blown away at how fast they were growing up. But Strahan had one more picture up his sleeve to show off his girls.
On their 14th birthday, he posted a stunning pic of the girls hiking. He captioned it with a sweet birthday message. After wishing them a happy birthday, he added that he was so thankful that he was chosen to be their father.
The image garnered more than 32,000 likes, and fans took to the comments to wish the girls a happy birthday and express their surprise at how quickly 14 years seemed to pass.
"Beautiful young ladies... Happy Birthday from the Pacific Northwest." ~@donnaaschuma
Strahan spends lots of time with both of the girls. From taking walks in New York to walking the red carpet with them, the doting dad takes every opportunity he can.
The cool dad even appeared with his twins at the Nickelodeon Kid's Choice Award. The appearance at the awards show is a rare occurrence because Strahan's kids usually keep a low profile.
In the caption, he once again pointed out how quickly the girls became young woman saying, " my two youngest girls (not so young anymore).
Please fill in your e-mail so we can share with you our top stories!