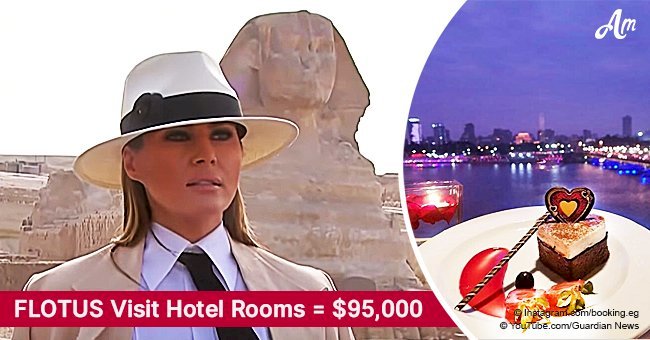 Melania's one-day stay in an Egyptian hotel cost taxpayers $95,000 for just 6 hours
Melania Trump racked up a large expense during her trip to Egypt last month. And it only took her six hours to do so.
The First Lady of the United States visited the Semiramis Intercontinental Cairo on September 30. The luxurious hotel features a sundeck, a rooftop pool, and a nightclub.
According to a government spending report, Melania was billed $95, 050 on that day. The description simply said "FLOTUS Visit Hotel Rooms." These rooms range from $164 per night to $699 for a presidential suite.
There is also free wifi, a 24-hour business center and stunning views of the Nile. Melania didn't actually stay overnight at the hotel according to one of her spokespersons.
So it's even more confounding just what might have led to such a significant figure. There are no details to clarify either.
We do know that she went out to go and see the pyramids. Most notably, she wore a colonial-style outfit that reminded many of a harrowing history.
The former model received lots of backlash for her outfit which featured a white blouse underneath a khaki blazer, a black tie, and most strikingly, a wide-brimmed helmet.
In comparison to her Egypt spending, a report from Fox News in 2017 referred to Melania's White House office as "one of the leanest East Wing Operations in recent history."
Meanwhile, taxpayers were a bit unnerved by Donald Trump's $77,000 expense when he stayed for two nights at his Scottish golf course in July 2018.
The sum included costs for Donald's son Eric, his press secretary Sarah Sanders, and his chief of staff John Kelly.
Melania's expenses in Egypt presumably covered costs for her security guards and other members of her staff. Nonetheless, they reportedly didn't occupy their rooms for more than six hours.
The FLOTUS and her husband did spend some time on Tuesday with persons who really needed some attention.
Members of the Tree of Life synagogue had just gone through a horrific event. 11 of their friends had been shot by an anti-Semitic gunman on Saturday.
They still need all the comfort and support they can get. Following her and her husband's visit to Pittsburgh, Melania posted a few words on Twitter:
"Actions of hate will never win against the strength found in love & faith. Our country grieves alongside the Jewish community & we extend our most heartfelt sympathies to the families & friends of the Tree of Life Synagogue."
Please fill in your e-mail so we can share with you our top stories!