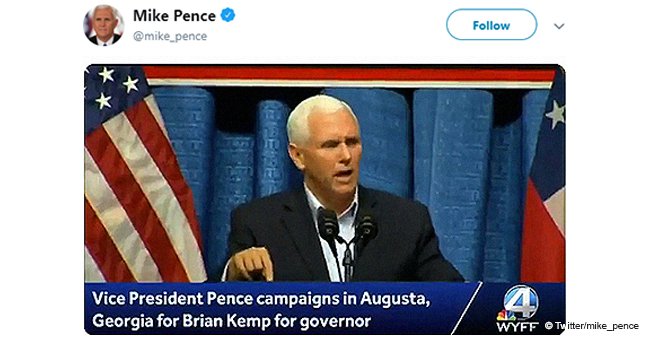 Vice President sharply slammed Oprah during his campaign sparking huge debates online

Vice President Mike Pence attacked Oprah Winfrey and other Hollywood celebrities who have been campaigning for Democrat Stacey Abrams.
Election fever is running high in the State of Georgia. Vice President Mike Pence gave a speech on November 1, 2018, in which he slammed the slew of Hollywood celebrities which have been supporting Democrat candidate Stacey Abrams' bid for Governor of Georgia, a speech he posted on Twitter/@MikePence on November 1, 2018.
Among the Holywood personalities supporting Abrams are Oprah Winfrey and Will Ferrel, neither of which are Georgia natives. The Vice President, who was born in Indiana, derided the Hollywood contingent's presence, challenging the Movie Meca's relevance to Georgia.
"I'd like to remind Stacey and Oprah and Will Ferrell, I'm kind of a big deal, too. And I've got a message for all of Stacey Abrams' liberal Hollywood friends: This ain't Hollywood. This is Georgia."
Mike Pence,Twitter/@MikePence, November 1, 2018.
WINFREY GOES DOOR TO DOOR IN GEORGIA IN SUPPORT OF ABRAMS
Pence's speech came after Winfrey, considered one of the most influential people in the world, went door-to-door in Georgia in support of Abrams.
Pence is supporting Republican candidate Brian Kemp, who is statistically tied with Abrams in their race to be Georgia's next governor. According to a recent poll, the battle for Georgia is set to be one of tightest contests in the 2018 midterms.
HOLLYWOOD RELEVANCE TO GEORGIA CONTESTED
Pence's diatribe, however, failed the mark. According to the Atlanta Journal-Constitution. Georgia,is home to a booming film industry, thanks to more than $1 billion in tax credits over the past decade, and more than 320 films and TV shows shot in the state in 2017 alone.
HOLLYWOOD BRINGS BILLIONS TO GEORGIA
The Georgia Department of Economic Development calculated the economic impact of the film industry in Georgia's economy at around $9.5 billion, including $2.7 billion in direct spending. Hit TV shows, such as "The Walking Dead," "Stranger Things" and "Atlanta," as well as box-office hits like "Black Panther," the "Hunger Games" and "Guardians of the Galaxy" franchises were all filmed in the state.
Read more on Twitter Amomama USA.
THE HOLLYWOOD OF THE SOUTH
Several members of the Georgia film industry have spoken out and defended the impact Hollywood has on the state economy, including the countless jobs created for film crews and actors. Georgia is ranked as one of the top film locations in the world, with 20 top movies filmed in the state in 2017.
OPRAH IN GEORGIA
Winfrey, who is a Southerner from Mississipi, came out in support of Abrams who will be the first black female governor of Georgia if she wins the election on November 6, 2018. the celebrity went door to door, meeting Georgians and speaking out in favor of Abrams.
Winfrey posted a video of herself going door to door, showing the reactions of the citizens she visited. One of these was a lady called Denise, who demonstrated understandable shock to find Winfrey on her doorstep. Denise proceeded to chat calmly to Winfrey and revealed that she planned to vote early.
Winfrey delivered a speech in Marietta urging Georgians to exercise their right to vote in the midterm elections:
"For anybody here who has an ancestor who didn't have the right to vote and you are choosing not to vote wherever you are in this state, in this country, you are dishonoring your family. You are disrespecting and disregarding their legacy, their suffering, and their dreams when you don't vote."
Former President Barack Obama was in Georgia on November 4. 2018 at a rally in support of Abrams. Obama is campaigning against President. Trump's agenda and Republican candidates less than two years after he left office.
Historically, former presidents remain neutral and tend to avoid openly criticizing their successors.
Please fill in your e-mail so we can share with you our top stories!