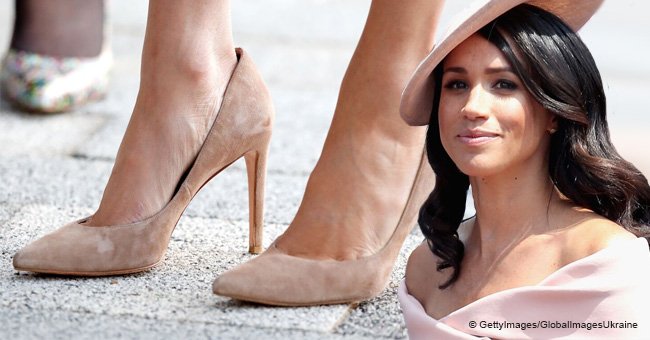 Fans mention a little scar on Meghan Markle's foot and already its history is revealed
Fans of the Royal Family recently noticed that Meghan Markle has a little scar on her foot and the explanation has now come to light.
During a formal Māori welcoming ceremony in New Zealand, the Duchess ditched her pair of Manolo Blahnik heels to fully experience the cultural moment.
As reported by The Sun, the little scar, which can be seen on the inside of her left foot, was the result of a bunion surgery the former actress was submitted to in 2014.
Follow us on our Twitter account @amomama_usa to learn more.
According to Kumar Kunasingam, consultant trauma and orthopedic surgeon for BMI Shirley Oaks Hospital, this type of surgery can be very painful.
The surgeon claimed that, even though the scar is only 4-5 cm long, it can take up to three months for patients to be able to wear high heels again.
Kusaningam explained that bunions tend to form on the metatarsal joint, the bone right above the big toe, and, just like an onion, it can have multiple layers.
"During surgery, you have to cut through all these layers to get to the bone, which is then broken, straightened and pinned. A bunion is a bit like an onion, it has so many layers and both pre and post-surgery can make you cry"
Kumar Kunasingam, The Sun, November 1, 2018
According to the surgeon, bunions affect 25% of the population but are more common in women, and given that Meghan was still an actress at the time, healing must have been tricky.
As an actress, the Duchess of Sussex would have had to spend long periods of time standing up and traveling, so she most likely had to wear a surgical boot.
Fortunately, all that hassle is behind her and she can now enjoy her extensive collection of high heels to her heart's content, even during royal duties.
The Duchess recently returned from her 16-day tour in Australia with Prince Harry, with whom she is expecting her first child. The new royal baby may be born sometime in Spring but the world will have to wait to know if it's a boy or a girl.
Please fill in your e-mail so we can share with you our top stories!