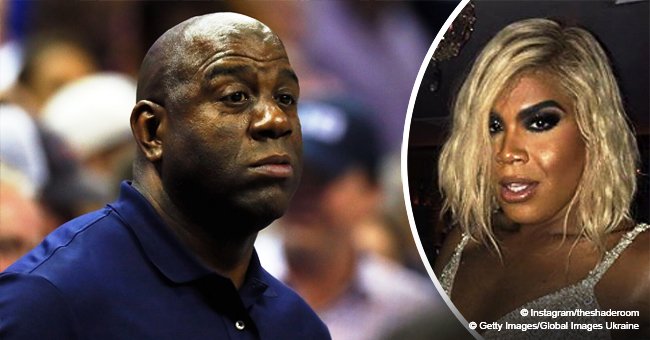 Magic Johnson's son EJ flaunts curves in sequined mini dress on Halloween night
EJ Johnson, the son of NBA legend Magic Johnson, took to Instagram to share photos of the Halloween outfit he chose for the annual Costume Couture party.
In the first image, EJ was posing next to designer Kyle Bryan. EJ put on a sleeveless, shiny, and sequined dress, as well as a blonde wig. Kyle, on the other hand, opted for a thick black leather jacket and a matching top.
The second pic showed EJ and Kyle next to Ezra Williams, who wore a black coat and a blonde wig, too. For the caption, Magic's son wrote, "Coven of the trade hunters."
MORE PHOTOS OF THE PARTY
Soon after that, The Shade Room uploaded another photo of EJ during the party. The rest of the images they shared set clear that other celebrities, like Mack Wilds, Meek Mill, James Harden, Carmelo Anthony, and Shiggy, also attended the party.
EJ'S HALLOWEEN COSTUME
A day before going to the party, EJ took to Instagram to share his costume for Halloween. In it, he was posing a couple of meters away from a very scary-looking house wearing long black boots, a matching cape, shorts, and a strapped top.
Given the fact that catching the character just by looking at EJ was difficult, he wrote, "She always finishes him," in the caption, followed by the hashtag "Mortal Kombat," a hint that help people know it was a Sindel costume.
PEOPLE'S REACTION
Some of his followers took to the comment section to share their thoughts. Most of them admitted that it was a wonderful outfit, while others opted for sharing negative messages and bullying him over his sexual orientation.
MAGIC GETTING BACKLASH
Unfortunately, it was not the first time that EJ has got such comments. Even his father, Magic, has run into those messages on his Instagram account. Recently, the NBA legend uploaded a photo showing him, his wife Cookie, and his children Elisa and EJ at a Los Angeles Lakers' game.
While most people liked the post and shared positive comments, others chose to send backlash:
"Imagine having a son and thinking he's gonna love basket ball like you but he ends up wearing makeup and dressing like a girl [sic]," wrote @t_clark527.
"Which one is the son???? This world has gotten out of hand, do you really think god would want that," said @dalton_w_cummins
SUPPORTING HIS SON
No matter what people say about EJ, his sexuality, or the alleged "poor parenting" that Magic has shown for "letting him be gay." The NBA legend has publicly and repeatedly said how much he loves his son and that he supports him in every step he takes.
"You gotta support your child, because there's so many people who try to discriminate against them, so they need you to support 'em, 'cause if you don't support 'em, who's gonna support 'em and love them? [sic]" revealed Magic on the "Ellen DeGeneres Show."
Please fill in your e-mail so we can share with you our top stories!