Teenagers who attacked disabled woman spared jail time – got off with fines
A group of five teenagers went viral earlier this year when they attacked a disabled woman in Suffolk by pelting her with flour and eggs. 
The outrage from the public was so severe, and with reason, that the teens needed police protection. Their families were plagued by threats as well. 
Read more on our Twitter account, @amomama_usa. It has now been reported that the teens were spared jail time and only got fines instead. 
Only one of the teenagers have been named publicly – the 18-year-old Cohan Semple. The others' names were withheld as they are still underaged. 

The court heard how the youngsters not only attacked and embarrassed the woman in the park, but they also shared a photo of the incident on social media. 
The boys approached the woman in the park and Semple spit on her face, twice. They then returned ten minutes later with flour and eggs. 

The woman, Mrs. Morris, was so traumatized by the incident that she couldn't even return to the park in the days to follow. Her lawyer also told the court: 
"Effectively the whole world can see the photograph, which is quite humiliating for the victim in this case."

The photo was initially only shared to Snapchat, but then a friend of Sample shared it on Facebook too, where it went viral. 
Semple pleaded guilty in court to "using threatening, abusive and insulting words or behavior to cause harassment, alarm or distress."

The court also heard that one of the other teenagers on trail, a 17-year-old, was "vulnerable and easily exploited." He was "egged on" by his friends to harass the woman. 
One of the other teenagers, 16, said that he learned his lesson: "I have learned not to be an idiot and never to do anything like that again."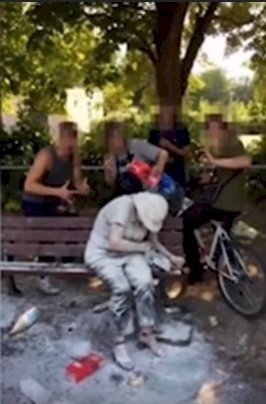 The youths were given a 12-month referral order and were given fines of £100 to compensate their victim, as well as a £20 surcharge fine and £85 for legal fees.