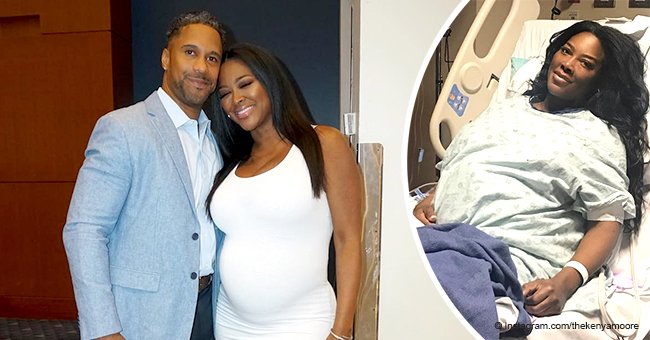 Kenya Moore welcomes daughter with husband Marc Daly and reveals her special name

Kenya Moore has delivered her first child, a daughter with her husband Marc Daly. Her name is as precious as what it means to her parents. "My heart is so full," she says, after announcing her daughter's birth.
The wait is finally over. Kenya Moore has given birth to a baby girl whose name holds a special meaning to the baby's parents.
PRE-BIRTH COMPLICATION
News of the birth of Moore's first child came just days after she revealed she was diagnosed with pre-eclampsia. The pregnancy complication causes severe swelling and water retention allowing her to gain 17 pounds in one week. Moore's blood pressure was also reportedly at a high level along with excess protein in her urine.
"This is NOT normal," she revealed on October 27 along with a photo of her swollen feet.
"Baby is fine but if [test] come back higher #babydaly will have to come same day."
FORESEEING AN EARLY DELIVERY
By Saturday, the former "Real Housewives of Atlanta" star alerted her fans on Instagram of her impending delivery.
"Won't be long now. Pray for us," she wrote, to accompany a photo of her on a hospital bed.
A STAR'S BABY IS BORN
Moore was originally due to give birth around Thanksgiving. Instead, she delivered via caesarian section weeks earlier on November 4. Her daughter weighed 5 lbs and 12 oz at the time of her birth. She was described by Moore to People as "very alert and active."
HER SPECIAL NAME
Along with the birth of her child was the news of the name Moore and Daly gave her – Brooklyn Doris. According to Moore, both names hold a special meaning.
"Brooklyn because that's where we met and fell in love, and Doris after my grandmother who passed away last year and who raised me."
MESSAGE AFTER GIVING BIRTH
Sharing a screenshot of People's headline announcing her daughter's birth, Moore also revealed how "perfect and strong" her little girl is. In her caption, she added,
"Marc was incredible in the deliver room. I lost a lot of blood so I'm very weak but they both were strong for me.
"God is so good. We are blessed and doing well.
"My heart is so full at the abundance of love for our family! We love you all."
She also thanked her fans for sharing the journey with her.
FAIRY TALES DO COME TRUE
Two weeks ago, Moore threw a regal fairytale-themed baby shower where she wore a lavish gold gown. Looking like a queen, the new mom sat on a golden throne while entertaining her guests who came in enchanting costumes. Moore's former "RHOA" co-stars Cynthia Bailey, Kandi Burruss, and Porsha Williams came in fairytale-inspired garb. The occasion showcased weeks of preparation courtesy of Moore who wanted everything to be perfect.
Now that she's a mother, fans can expect Moore to be fully hands-on with her daughter who she's waited decades to come by. Congratulations to Mr. & Mrs. Daly!
Please fill in your e-mail so we can share with you our top stories!