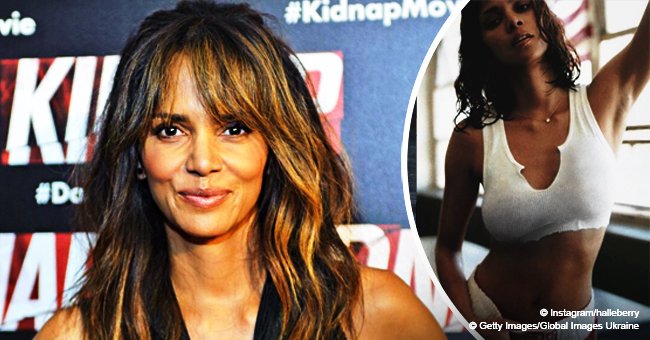 Halle Berry, 52, flaunts fit tummy in pic after revealing she is 'in the best shape of her life'
The multi-awarded actress Halle Berry took to Instagram to showcase her strong and fit stomach wearing a boxing outfit as a way to promote her "PHIT Talks" on IGTV.
In the post, she appeared wearing a ripped white crop top and red and white Everlast shorts just like the ones boxers wear for their fights. Her tummy was on full display, proving that the 52-year-old actress is one of the sexiest ladies at the moment.
Apart from her beautiful and healthy body, Berry's wet hair gave the post a very hot touch. In the caption, she urged people to check her stories and IGTV for the newest episode of "PHIT Talks," a project she and actor Peter Lee Thomas created.
THE SHOW
That episode addressed body fat loss for beginners, daily vitamins, low-carb fiber intake, and how to combat pesky bloating. As soon as she uploaded that photo, her followers couldn't stop gushing about her toned body and sexy look.
DIGGING INTO THE PROJECT
In January 2018, Berry uploaded a slideshow with several photos and videos of Thomas on her Instagram account talking about the project for the first time. Since IGTV had not been created at that point, she just called it "Fitness Friday."
Berry revealed that Thomas was her secret weapon as he changed her life. "Besides being an all around wonderful human, he's a trainer, martial artist, fellow actor, and nutrition specialist! With his help, I have learned so much about fitness and nutrition and I'm excited to share it with all of you," added the actress.
THE BEST SHAPE IN HER LIFE
Apart from that, Berry pointed out that she was in the best shape of her life, that she could defend herself and her children, and that it was very empowering. Thomas revealed that Berry works out seven days a week and that she has the body of a 25-year-old lady.
"She's also not afraid to experiment and explore and take risks when it comes to fitness because she understands that in order for there to be potential growth and change, she's going to have to do things that are commonly difficult to do," said Thomas.
SHARING PIECES OF ADVICE
Over the years, Berry has shared some tips and details about having a fitness lifestyle. One of the things she has said is that, once you get used to exercising, it turns into something you look forward as it becomes a stress reliever that makes you feel relaxed and optimistic. "After I work out, I feel like I can conquer the world," said the actress.
At the moment, Berry is focused on taking care of her children Nahla Ariela and Maceo Robert, as well as on her career. She is expected to appear on "John Wick 3: Parabellum," which will be released in 2019.
Please fill in your e-mail so we can share with you our top stories!