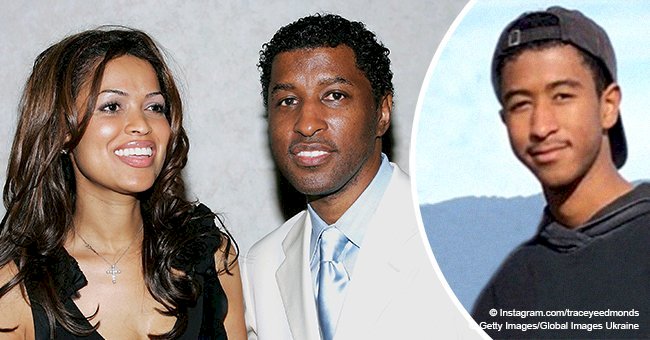 Tracey Edmonds shares photo with grown-up son who looks just like dad Babyface in new photo
Tracey Edmonds and her ex-husband Kenneth "Babyface" Edmonds' son is all grown up. In the pics, shown below, posted by his mum, Dylan Edmonds looks just like his dad.
Tracy's youngest son is well-known by her fans. He appeared in the reality TV show, "Deion's Family Playbook" alongside his mum and her boyfriend, Deion Sanders.
But the young kid from the show is long gone. Now taller than his dad, Dylan is no longer a child.
The young man not only looks like his dad but he seems to also have his personality traits. He is laid back and introverted like his dad.
In her recent post, the proud mama stood next to her son during a walk in the woods. They posed together with her arm around his shoulders and a huge grin on her face
"OMG! He looks just like Babyface. Such a handsome young Man!" ~@laney9120
It's not the first time she's posted a pic that blew fans away. She also posted the above image while they were on a New York college tour together.
ABOUT HER RELATIONSHIP WITH BABYFACE:
Tracy Edmonds got married to singer Kenny Edmonds in 1992. They had two children together before divorcing in 2005.
In a recent interview with Opera, Kenny admitted that he was never in love with Tracy. He went on to explain that while they loved the idea of each other "the connection was never there."
HER OTHER RELATIONSHIP:
After a short-lived marriage to Eddie Murphy, Tracey began dating Deion Sanders. Kenny told Opera that he fully approved of the relationship. He is quoted as saying:
"Deion's a good guy. Deion did one thing for me, which I thought was the classiest thing in the world. I've given her my opinion on certain things, I knew Deion seemed like a nice guy. When he called me and said he didn't want to meet my children until he sat down with me, so he wanted to know me before he met my children, I was in. Tracey is family, so I wanna make sure she's good."
DEION SANDERS AND TRACY EDMONDS
The couple began dating in 2012. Deion took it upon himself to be a really good dad to Tracy's two boys.
Tracy became the executive producer for the show, "Deion's Family Playbook." Tracy's older son did not appear much in the show as he prefers to stay out of the limelight.
Together, Tracy and Deion seem to be brilliant parents. They co-parent the boys with Kenny.
Please fill in your e-mail so we can share with you our top stories!