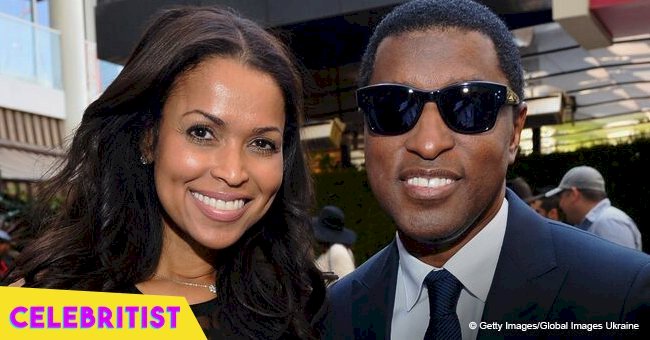 Tracey Edmonds shares photo with her & Babyface's son who looks taller than his mom
TV producer and businesswoman, Tracey Edmonds, took to Instagram to pose with her and Babyface's son, Dylan. Tracey also revealed the milestone Dylan was about to cross.
R&B legend, Kenneth "Babyface" Edmonds may be keeping a low profile these days, but his resemblance is written all over his younger son, Dylan.
In the photo found below, Tracey draped an arm around her son who looked taller than her. The cute mom dressed for chilly weather in a long coat worn over a white top. The "Soul Food" producer also wore a pair of jeans held by a broad belt.
Dylan looked casual as well in a hooded sweatshirt, light blue jeans, and a long coat. The straps of a backpack were also visible on his shoulders.
Tracey, 51, proudly informed her followers:
"Happy Monday Fam! Can't believe it's that time already! My "little one" is about to fly the coop! Hanging with Dylan today on our New York college tour!"
It seemed like only yesterday when a much younger Dylan appeared on the reality series, "Deion's Family Playbook." The show was based on the lives of Tracey and her current boyfriend, Deion Sanders.
SIGN OF APPROVAL
Babyface, who parted ways with Tracey in 2005, had earlier opened up to Oprah on his feelings about the relationship. The Grammy winner revealed the one thing that Sanders did to gain his approval.
"Deion's a good guy…Deion did one thing for me…which I thought was the classiest thing in the world. …When he called me and said he didn't want to meet my children until he sat down with me….so he [wanted to] know me before he met my children…I was in. Tracy is family, so I wanna make sure she's good."
A LOVELESS MARRIAGE
Babyface, 59, also made a shocking revelation about his 13-year marriage to Tracey.
"The reality is that there was a connection that wasn't really there," said the "And Our Feelings" singer. "We loved each other, but we weren't really IN love with each other. It was more the idea of it falling apart and me holding onto the image of what I thought we were…I don't feel like we were supposed to be together forever."
Tracey and Babyface met in 1990 when she auditioned for the music video for his song "Whip Appeal," and despite the public accusing Tracey of being a gold-digger, the pair was married in 1992.
They have two sons, Dylan, and Brandon, his older brother.
Tracey was also briefly married to actor and comedian, Eddie Murphy, in 2008.
Please fill in your e-mail so we can share with you our top stories!