Pregnant mother's hilarious story about husband's 'man flu' goes viral
A parenting blogger's hilarious post about her husband becoming completely helpless and useless at least once a year on "flu season" went viral since most married women completely related to it.  
Mother-of-three and "Strollin' with my homies" writer Sydney Waters submitted her story to "Love what Matters" and it went on to be shared more than 700 times and received more than 1.300 reactions on Facebook.
Sydney's husband's Ty's recent cold inspired her viral post on which she recalls a homely crisis that happened back in 2014 when the couple was expecting their second baby and the flu took over.
Breaking Ty's worst "man flu" into a series of stages, Sydney tries to prove her point that men are way weaker than women when it comes to coping with an illness. Read more on our Twitter account @amomama_usa 
THE NIGHTMARE BEGINS
"It might not even be the flu, it could just be a cold but he'll treat [it] like the plague because it happens every year like clockwork. Just as sure as the sun rises and sets I can count on him to be completely useless for a solid week if he so much as sneezes."
-Sydney Waters, "Strollin' with my homies," November, 2017.
As Sydney wrote, she was in the 9th week of her second pregnancy and taking care of her 6-month-old daughter Cora when she started to feel sick.
At first, she thought it could just be an episode of morning sickness, and she went out to do some errands as planned even though she had to throw out from her car window.
But since the feeling didn't go away and Ty started to show symptoms too, Sydney realized that she and her husband had the flu, and she knew what this meant she was going to deal with Ty at his worst.
"The moment he says he's feeling sick my eyes automatically roll into the back of my head and touch my spine. Instant dread," Sydney revealed before getting into detail about Ty's overreacting to not feeling well.
IMPOSSIBLE TO DEAL WITH
Sydney complained about how she can't expect to receive any support from flu-struck Ty, not even when she was pregnant and sick, and instead, she has to look and clean after him every time.
The frustrated woman shared that she tries to be nice about it when her husband starts to show signs of getting an upset stomach, but he never listens to her advice and ends up making things even more difficult for her.
Sydney went on to say that Ty missed the WC or the garbage can every time he needed to throw up, and ended up making a mess over her recently washed dishes or the restroom, making her lose any compassion for him.
SERIOUSLY?
"He's being so noisy and dramatic with his heaving that I have no choice but to check on him and pretend I don't want to murder him," she continued.
Things start to take a quick turn towards the absurd when Ty starts to show rather unusual flu symptoms, like, apparently, going blind. He even wanted her to call 911 over his sickness during his infamous 2014 flu.
After having a hard time processing that her husband wants her to make an emergency call after he has been sick for roughly an hour, Sydney decided to play along and actually request help for her silly companion.
Sydney thought she had done great now that she was going to embarrass Ty when medics responded to the call until she learned that he has pooped his pants in bed. Now, she knew she was the one about to be embarrassed.
But to her amazement, when the paramedics arrived, they actually took Ty to the hospital in an ambulance.    
FINALLY, SOMEONE SHOWS SOME COMMON SENSE
"I drive […] alone to the hospital while puking in a plastic bag with my husband in front of me on a stretcher being doted on. It's the first and last time I've ever considered divorce," she recalled.
The only relief and sign of common sense for Sydney was the female nurse in charge of Ty once he was given a room at the hospital, for the health professional clearly wasn't buying his "man flu" drama.
"The nurses keep coming in to give me the I'm so sorry look. The nod all women know. When someone says their man is sick we take a moment of silence for each other. United we stand," Sydney wrote.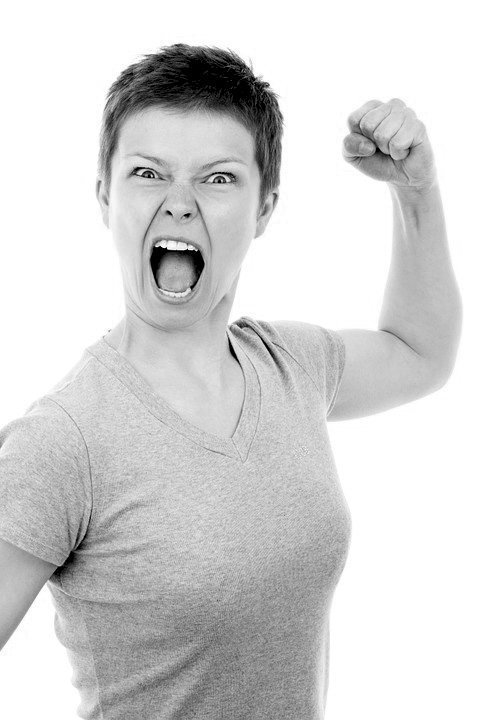 FORGIVEN, BUT NOT FORGOTTEN
Even though the two eventually laughed about the entire episode, Sydney admitted that it was still a "touchy subject" to address. And even if she could forgive him, she warned him that she was going to share the story someday.
"If you think your hubs is the worst when they get sick, come and read this again for a reminder. Beware… the man cold and flu season is near. This could be you," she ended her story.
If you felt this story hits too close to home, we would definitely recommend you to read the story about a newlywed woman that found her husband's dirty socks in the fridge, and how this made her question her decision to marry him.