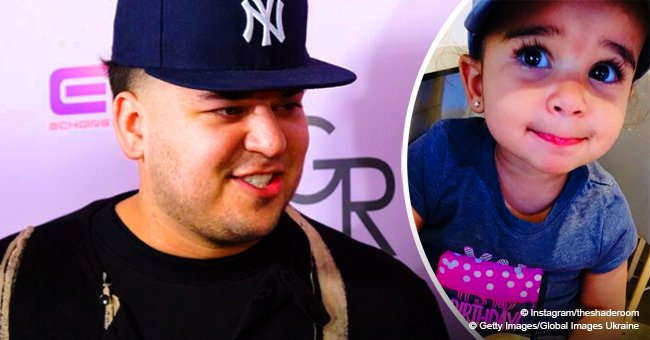 Rob Kardashian shares adorable picture of daughter Dream enjoying a smoothie
Rob Kardashian's daughter mesmerizes with her dreamy eyes in her latest photo where her father dubs her the "Smoothieee Queen."
Rob Kardashian just shared another adorable photo of his daughter Dream amid his absence in the limelight.
It's been a while since the Kardashian son graced the limelight with his presence. Since splitting from his ex-fiance, Blac Chyna, the reality star has been devoting his time to their daughter, Dream, and his health.
On occasion, he'd share a glimpse of his growing toddler and cause a stir online.
Take for instance this cute snap of the one-year-old looking sporty in a grey cap. Rob tweeted this last week just to greet his followers "GOODnight!" The little girl with dark curls and pronounced eyes captured the hearts of his followers who gushed about how "adorable," "gorgeous," and "precious" she is.
DREAMY EYES
A new photo the doting father posted is guaranteed to elicit another wave of compliments directed towards his daughter. In the snap, Dream is wearing the same cap from last week but this time her curls are tucked underneath it. She's wearing a blue shirt that reads "It's my birthday," commemorating the day she turns two on November 10. Dream's huge eyes are captivating with her thick lashes adorning it. She's holding on to a smoothie prompting her father to caption the pic,
As expected, fans appreciated the post. One fan exclaimed,
"What a cute little pie !! omg those lashes! And those eyebrows are gonna be perfect for shaping when she grows up. She's the cutest of them all."
"She might just be the cutest out of all the Kardashian grand kids," another added.
CHYNA WANTS ROB BACK
Dream's mother, Blac Chyna, has recently been hinting at a possible reconciliation with Rob. She told Daily Mail TV that "maybe" she'll consider getting back together with the 31-year-old reality star. Even her ex-boyfriend Menchie alluded to this in an interview with Hollywood Life. He said there is a possibility the ex-fiancés would reconcile.
"You never know. goes by and people change and things get stronger. Chyna, she's a great person. She's a Taurus so she's very giving, very forgiving. I wouldn't put it past me."
WOULD ROB WANT HER BACK?
It's unclear if Rob would consider the idea as well. He's been successful in getting his life back and altering his health habits since splitting from Chyna in early 2017. The sock designer has reportedly lost close to 50 pounds. His focus now is clearly on himself and his daughter.
His family may not be as accepting of the idea of him getting back with Chyna too. The singer filed a lawsuit against most of the Kardashians including Rob's mom, Kris Jenner, at the height of their controversial split. The wounds have yet to heal before Chyna wins the family back.
Please fill in your e-mail so we can share with you our top stories!