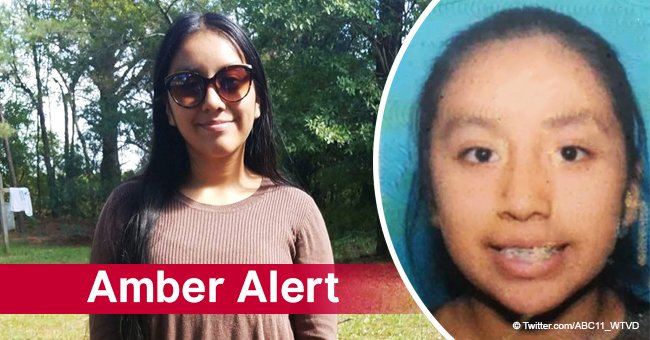 Amber Alert for 13-year-old NC girl kidnapped from front yard while waiting to go to school
An Amber Alert has been issued by the police after Hania Noelia Aguilar was kidnapped from a Rosewood mobile home park in Lumberton. The child was taken by a man who was wearing a bandanna over his face.
Aguilar was taken on Monday morning while she waited to be taken to school. Police are investigating the case.
According to 13-year-old Hania Noelia Aguilar's family members, the 8th-grader went outside on Monday to start a relative's SUV. She was preparing to leave for the bus stop so she could go to school.
Instead, a witness saw her being shoved into the Green 2002 Ford Expedition with South Carolina license tag number NWS-984. The man who took her quickly drove off before 7 a.m.
For more on this story go to our Twitter account @amomama_usa. The SUV's "paint on the hood is peeling & there is a Clemson sticker on the rear window," according to a tweet from the FBI in Charlotte.
Aguilar was described as a Hispanic teenager who was about 5 feet tall and weighed 126 pounds. She had black hair and brown eyes.
At the time of the kidnapping, the teenager was wearing a blue shirt with flowers and blue jeans. Police didn't know much about the man that kidnapped her.
"Witnesses can't describe the suspect other than he had a yellow bandanna over his face. After grabbing the child, he forced her into the Green Ford Expedition and stole it and drove away."
At midday on Monday, Lumberton Police Chief Michael McNeill attended a news conference described the abductor as having worn black clothes with the bandanna. Aguilar is a student at Lumberton Junior High School.
So far, those involved in the investigation are the FBI, the State Bureau of Investigation, and the Robeson County Sheriff's Department. They are searching the North Carolina city along I-95 near the South Carolina border.
Police are currently following 50 leads. The FBI revealed that the teenager's mother had pleaded with whoever took her daughter to please bring her back home.
Family friend Maria Bonilla said:
"Hania, we are praying for you. Praying hard for you to come back home."
"All her friends at school were crying and waiting for her to come back home."
The family's neighbor Richie Chavis shared that Aguilar was a friendly child who would wave and smiles all the time. He recalled seeing her often while she waited for the school bus.
The Lumberton Police Department has set up a special tip line to call with information to find Aguilar. Anyone who knows anything about the case was asked to call 910-272-5871.
In a separate case, police issued an Amber Alert for a boy Alexander, 1, and a girl Priscilla, 11. The children's mother, Diana Moreira, 33, was accused of abducting them during a supervised visit with Child Protective Services in San Jose last Friday.
A warrant is out for the mother's arrest. She was said to be driving a gray 20-12 mini cooper with the California license plate '6UWI251' and police believed that she was heading to Colorado Springs.
Please fill in your e-mail so we can share with you our top stories!