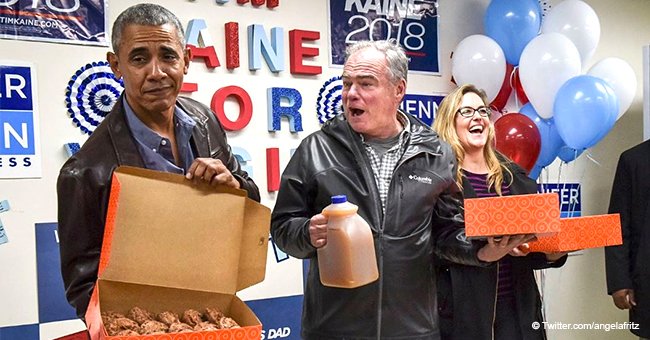 Barack Obama surprises campaign workers with donuts 'especially approved' by wife Michelle
Barack Obama has always been one to keep himself close to his staff, and so now it isn't a surprise that he surprised campaign workers with donuts which were "especially approved" by Mrs. Obama.
During the former president's visit to the Wexton field office in Fairfax County, Virginia, he was greeted with a round of applause when he surprised a room full of volunteers and campaign staffers with boxes of doughnuts from a place called "Sugar Shack".
What makes the doughnuts much sweeter is that he claims they were "especially approved" by his wife, former first lady Michelle Obama.
In a video shared by MSNBC on Twitter, Barack spoke to the crowd saying:
"She knows all of you have been working so hard. You've been moving, so you're allowed to have a little, little treat."
The former president was in the office visiting Senator Tim Kaine and Jennifer Wexton, who is the Democratic candidate running in Virginia's 10th Congressional District in the election. Right beside Obama stood Senator Kaine, who made sure to add a little humor to the little meeting by saying: "either this crowd likes you or they like doughnuts".
Aside from solely giving doughnuts away for free, Barack also made sure to share a thing or two about the importance of voting in the upcoming election, especially since it might save a life.
"You vote, you might save a life; that's pretty rare when that happens. … The character of this country is on the ballot. Who we are is on the ballot. What kind of politics we expect is on the ballot. How we conduct ourselves in public life is on the ballot. How we treat other people is on the ballot."
Barack might have retired from politics when he ended his last term as president a few years back, but now that it seems that the United States needs a bit of his help, he's been trying to actively take part in the upcoming elections. Recently, Obama was caught reminiscing about the times he was president just in time for the midterm election, and it just shows how attached he's been to politics, and how it's probably going to stay that way for quite a while.
Please fill in your e-mail so we can share with you our top stories!