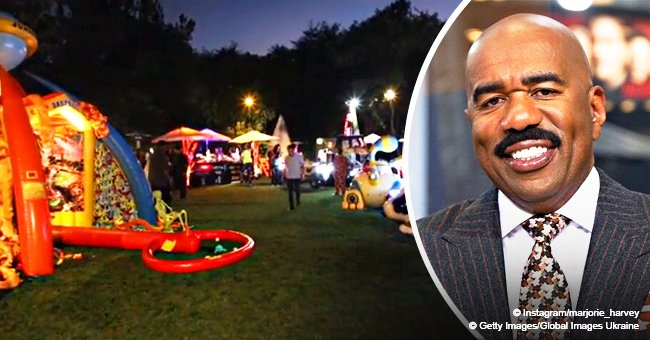 Steve Harvey transforms backyard into amusement park for his grandkids in video

If there's anyone who can throw the best party, it's Steve Harvey. During Halloween, he made sure to turn his backyard into an amusement park full of games and rides for all his grandchildren, much to their delight.
Steve Harvey has always been known to host the most extravagant parties when it comes to holidays like Christmas, Easter, and now, even Halloween.
The Harveys are always up for a party, so when the best grandparents decided to throw a fun Halloween bash for their grandchildren, even their kids made sure to step up their game.
For their costumes, Steve dressed as his pimping alter ego, Unc, while his beautiful wife Marjorie dressed up as Edna Mode from the Pixar superhero film "The Incredibles".
Of course, the rest of the Harvey plan showed up with well-thought-of costumes, especially since the party the cool grandparents hosted was not just your regular Halloween party. In fact, they had inflatable rides, carnival rides, game booths, and tons of candy.
Steve turned his backyard into a mini amusement park for his grandkids and even his children to enjoy.
Adding a bit of their humor into the holiday festivities, the TV show host greeted his followers a "Harvey Halloween!", which is exactly what happened as the family enjoyed the extravagant treat in their own backyard.
Their fans made sure to share their amazement about how the Harveys are able to pull off such an event, sharing their thoughts on Instagram. While some praised the loving grandparents for what they do for their grandkids, some also wished they could do the same for theirs.
"@kinya76: Wowww Looks like fun..I need to bring my grandkids there next year.."
"@ladycarlagaskins: I am here for all of this."
"@valariedavis9285: Living your best life Goals"
Of course, to match the event, Steve and Marjorie Harvey dressed up like perfection for Halloween, and so did the rest of their families. Although they had no particular theme they had to follow, they all made sure to dress their best and do justice to the Halloween bash that Steve threw.
After all, it is through parties like these that the Harveys get together and have fun with one another.
Please fill in your e-mail so we can share with you our top stories!