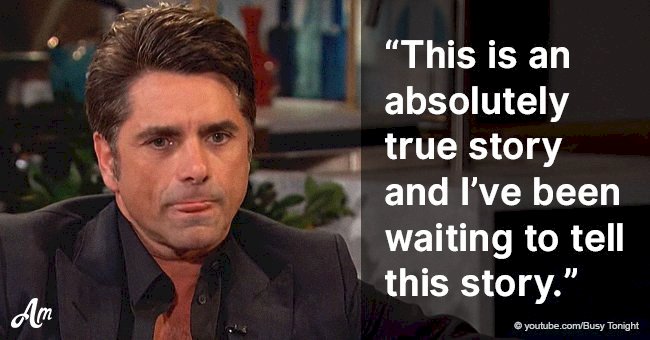 John Stamos opens up about a curious thing he had to do while watching a TV-show he was in
While proudly showing off his son to fans he recalls the funny story of what lead up to little Billy's arrival into this world.
On November 5, John Stamos was a guest on 'Busy Tonight' show and had a rather curious story to tell. Stamos and his wife, Caitlin McHugh were trying to get pregnant at the time and paid the doctor a visit.
The doctor had to take some samples to test fertility on both sides and Stamos recalls the day:
"This is an absolutely true story and I've been waiting to tell this story …Trying to get pregnant and we had to do a thing, and we had to go to a fertility, ya know, place. And I had to go give a sperm sample. I can't believe I'm finally getting to tell this story."
Stamos then told host Busy Philipps:
"And I went into this little room where they go, 'Go in there…' And they said, 'If you need any stimulation or whatever there's videos and there's a TV here, just turn the thing.' I turn the TV on and it's on Fuller House."
And there he was, looking at himself on the screen while he needed to get things done. John Stamos, 55, stars in the Netflix series as Uncle Jesse, and also originally played the role in Full House from 1987 to 1995.
Caitlin and Stamos welcomed their son Billy into the world 6 months ago and got named after his father. But little Billy seems to melt hearts already as he joined his dad, Stamos on the 'Jimmy Kimmel Live' show on Wednesday.
The show was a 70s themed in celebration of Halloween and after Kimmel and Stamos spoke about his role in 'Fuller House' and Stamos and Caitlin's wedding early this year, Caitlin brought out little Billy. Caitlin had dressed Billy up like Robin Williams' TV character, Mork, while Caitlin dressed as Mindy, from the 70s sitcom, 'Mork & Mindy.'
Stamos couldn't help but gush as he said to Kimmel:
"Isn't he just the most beautiful baby? I'm so in love."
"This is the cutest baby I've ever seen. You gotta make more of these."
Billy was born just in time for Mother's Day, and Stamos took the time to wish his wife and new mother, Caitlin a happy 32nd birthday and Mother's Day when he uploaded an image on Instagram showing Caitlin holding their one-month-old son Billy while smiling proudly.
Billy added that Caitlin has brought more love and joy to his life than he could ever imagine, and finally thanked her for making him the luckiest man on the planet.
Please fill in your e-mail so we can share with you our top stories!