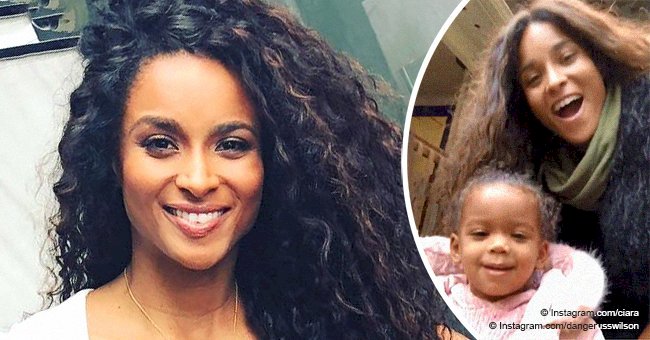 Ciara's daughter walks with her parents on first day of school, wearing pink ensemble in cute video
How time flies! It seemed like only yesterday when Ciara and her husband welcomed their baby girl and now, the tot is already going to school. Scroll down for her adorable "first day of school" video.
Proud dad, Russell Wilson took to Instagram to show off their daughter, Sienna Princess Wilson, as she walked to school. The NFL player was joined by Ciara, 33, for the drop-off and both parents were visibly excited.
"Our little baby girl's first day of school," Russell, 29, began as his wife giggled from behind. The "Level Up" singer went make-up free for the occasion, and Russell looked every inch a sportsman in his wide baseball hat.
One-year-old Sienna, meanwhile, appeared to be eager for school. She walked way ahead of her parents on the pathway that led to the school.
"She's ready," Ciara said before rushing to catch up with Sienna who was taking off her pink jacket. The cute tot also had on a matching pink sweater, and her curly hair was pulled into a loose knot atop her head.
At some point, Russell turned the camera on her. Sienna smiled sweetly as she said, "Mama" and promptly turned toward the school building again.
Fans of Ciara and the Seattle Seahawks quarterback were in the comment section to gush over Sienna's cuteness.
"She's growing up SO FAST!!" said one person.
"So cute she looks like both of you," chimed another.
SIENNA LOVES PINK
Sienna turned one on April 28, and her celebrity parents threw her a pink-themed bash fit for a princess. The event featured many pink balloons and a two-tier cake with an edible crown on top.
Sienna herself looked like royalty in a white top and extra-puffy pink tulle skirt. Of course, she also had on an elaborate crown.
JUST LIKE HER MAMA
The second child of the "Goodies" singer also made headlines in September when she was seen dancing to her mother's new single, "Dose." Judging from the video, Sienna obviously inherited her mother's dancing genes.
SNAPBACK "CHALLENGE"
Recently, the Grammy award-winning performer told Cosmopolitan about her intense workout routine following the birth of Sienna. She said:
"It was kind of like, wake up in the morning, breastfeed, eat a small meal, go train, come back in, breastfeed, eat another meal, go train, then come back, have another meal, and then a third training session at night."
"It was a good challenge, one I set for myself, not for anyone else. Taking care of myself makes me feel really good. And I want to keep it sexy too, you know," Ciara finished.
Ciara and Russell tied the knot on July 6, 2016. The singer also has a four-year-old son, Future Zahir, from her previous relationship with rapper, Future.
Please fill in your e-mail so we can share with you our top stories!