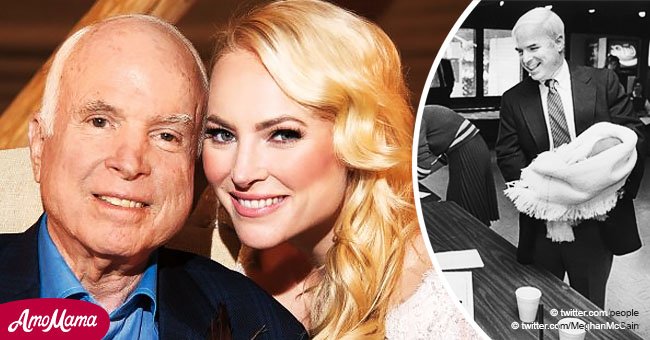 Meghan McCain pays heart wrenching tribute to her late father on election day
Meghan McCain paid a sweet tribute to her late father, John McCain, during the first Election Day without him.
On Tuesday, November 6, 2018, the 34-year-old honored the former Arizona Senator with a touching father-daughter memory from 1984.
Meghan took to her Twitter page to share a photo of McCain holding her while she was still a baby and showing her off at the polls.
Follow us on our Twitter account @amomama_usa to learn more.
In the black-and-white picture, a younger McCain can be seen smiling widely while holding Meghan, who was only 15 days old at the time, wrapped in a comfy blanket.
Although it was a sweet memory, it was also a painful reminder that the politician is no longer with us, something that Meghan is still struggling and trying to come to terms with.
"My first Election Day of my life without you - miss you so much today Dad. Thank you for always involving me in our amazing American political process and bringing me everywhere you went."
Meghan McCain, Twitter, November 6, 2018
According to Meghan, she wakes up every morning with the instinctive thought of reaching for her phone and calling him, only to realize that it is no longer possible.
MEMORIES THAT WILL NEVER FADE AWAY
The grieving daughter claimed that she misses her father so much that it physically hurts her heart, and that she missed everything that made him who he was.
"I miss your laugh, your voice, your dark sense of humor, the way you always made me feel safe in a world that seems to have lost its way. I miss your dry ribs and grilled chicken. I miss you singing The Beach Boys on the porch."
But, although she misses him dearly, the former contributor at Fox News keeps her father's spirit alive by living according to his motto - that, as Americans, they can never surrender.
McCain was a very influential man and political figure, and although he had enemies, he still managed to earn their respect due to his strong morals and charisma.
He never discriminated anyone, for any reason whatsoever, and one of his last wishes was to have Barack Obama and George W. Bush deliver eulogies at his funeral service, which the the former Presidents of the U.S. considered an honor.
Please fill in your e-mail so we can share with you our top stories!