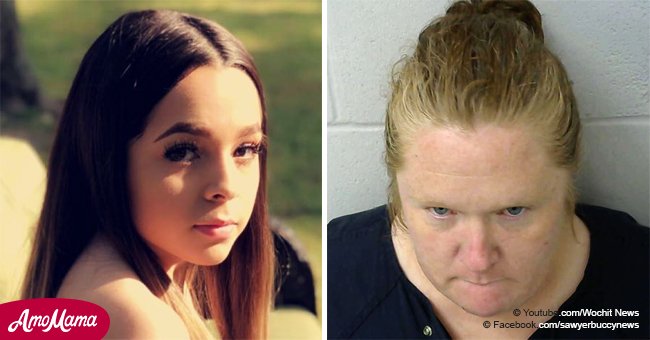 Police report: 16-year-old girl shot by her mom while asleep has died
The 16-year-old Khloee Toliver and her 18-year-old brother Kayson was shot by their mother, Amy Hall, while they were asleep.
Khloee survived the ordeal but was in a critical condition, and her life support has since be switched off.
Read more on our Twitter account, @amomama_usa. The mother was arrested on November 1 and was charged with two counts of murder in the first degree.
According to the police report, her two daughters were sharing a bed. When Hall shot the 16-year-old, her younger sister ran to the bathroom.

Source: Fcebook/KTULTV
She disarmed her mother and didn't sustain any injuries. The 14-year-old, the only surviving sibling, was taken into protective custody.
Hall has since expressed her grief at killing her children, saying she's "so sorry" for her actions. She believed that she "saving them from [her] ex-husband."

Source: Fcebook/KTULTV
She wanted to kill herself as well, and would probably have gone through with it if the 14-year-old didn't fight back.
Another teenager, an 18- year-old, was also in the room that night, but he was not harmed. Hall told authorities she had no intention of killing him.

Source: Fcebook/KTULTV
Hall has been separated from the children's father since 2016, and the two were embroiled in a complex custody battle.
She filed an emergency order for sole custody back in October because she believed her husband to be "mentally unstable and psychologically abusive."

Source: Fcebook/KTULTV
Halls' bond was set to $500,000 for each of the shooting charges, but no bond has been agreed upon for the murder charge.

Source: Fcebook/KTULTV
While Kayson played football, Kloee was on the cheer team.
They were loved by members of the community, who described Kayson as a talented football player. One of their teachers said:
"Anytime we lose a life that young it's totally tragic. This is very devastating because everybody has some connection to the school, the kids involved. It makes it a very difficult time."
Please fill in your e-mail so we can share with you our top stories!