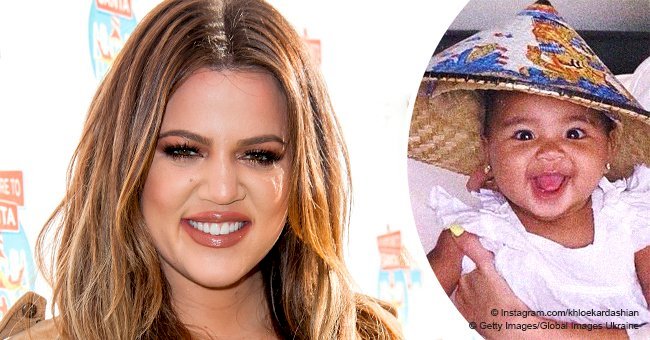 Khloé Kardashian melts hearts with photo of her and baby True beaming & rocking bamboo hats in Bali
Khloe Kardashian posted a pic of her holding her beaming baby, True. In the image shown below, both of them donned Chinese bamboo hats.
It's no secret that Khloe Kardashian has been loving motherhood. She often posts pic sharing her sentiments and awe regarding her baby.
True, who according to Kris Jenner was named after her great grandfather and great, great grandfather, is Khloe and Tristan Thompson's daughter. She is Khloe's first child after years of fertility issues.
Now she proudly shows off her cute bundle of joy at every opportunity. Fans have been treated to a host of pictures from True's birth till the recent adorable pic.
LATEST POST:
Her latest post is a pic of the two of them sitting on a bed together. Both of them wear conical Chinese bamboo hats.
The mummy-and-her-mini-me pic shows both of them also dressed in white dresses. True has a huge grin plastered adorably across her face.
Khloe captioned the post, "This picture makes me smile seeing Trues beautiful face!! You are EVERYTHING to me sweet True smile today! It's contagious." And many fans agreed.
"Love, Love, Love this photo!! what a happy baby!! How can she not brighten you day??? " ~@lorrie.romanello
CONTROVERSIAL OUTFIT CHOICE:
However, many others were quick to point out that using the traditional Chinese hats bordered on cultural appropriation. Many people took to the comments section to attack Khloe for the outfit choice.
"Please do not teach your child that cultural appropriation is acceptable DO BETTER." ~ one of the comments read
It is not the first time Khloe has been accused of cultural appropriation. She and her sisters found themselves in hot water for a number of questionable outfit choices.
In 2005, Khloe outraged fans on a trip to Dubai when she unnecessarily donned a niqab. She once put on an Indian Headdress and has also irritated fans when she and her sisters insisted on styling their hair in cornrows and Bantu knots.
Regardless, of the backlash, Khloe is completely focused on her daughter. True, according to her mum, is her "gift" in the middle of a nightmare.
TRISTAN'S CHEATING SCANDAL:
The nightmare she refers to is, of course, the drama just before she gave birth to True. Khloe's boyfriend Tristan Thompson, who is also the father of her child, was caught cheating on her days before her due date.
He was seen in a video canoodling and kissing at least four different women in a variety of different videos. Khloe recently revealed her reaction to the news in a tweet.
She wrote, ""Oh well thank God a camera was NOT with me in Cleveland!!! I won't put in writing what I did but let's just say he's LUCKY I was nine months pregnant."
Please fill in your e-mail so we can share with you our top stories!