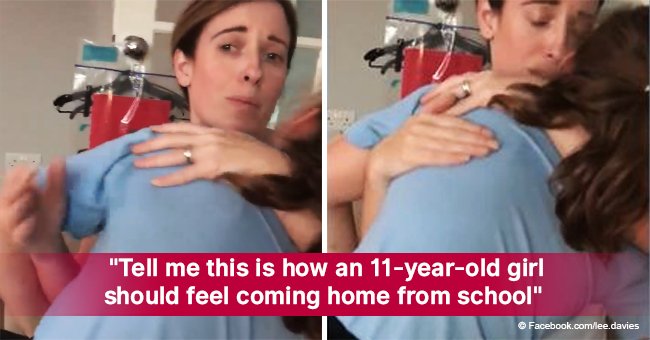 Heartbreaking video shows girl suffering panic attack after being bullied at school
A father and a mother are really concerned about the emotional well-being of their daughter, so they shared a video in which the girl suffers a panic attack caused by bullies that torment her at school.
The 11-year-old girl has been suffering for several weeks in school because a small group of classmates has decided to make life impossible for her.
Even though the girl told her parents what was happening, when they reported the situation to the authorities of Cyfarthfa High School, they did not receive the answer they needed and the problem continued to occur.
Lee and his wife, Natalie Davies, came to the conclusion that they had had enough, so they took the camera of their cellphone and recorded their daughter while suffering a panic attack upon arriving home after the school bullies made her have a very bad day.
The little one is so upset that she can't even say a word and tell her mother what they did to her at school that day. The mother tries to calm her down but the girl can't stop the incessant sobs. Follow us on our Twitter account @amomama_usa to learn more.
The girl's father explains that they asked the school principal to put her daughter in another class so that she would not have to endure the mistreatment of these peers who torment her, but the response they received was that it was necessary to talk with several teachers to be able to do it.
None of the teachers at the school seemed to care what was happening and that is why these parents decided to tell their story through social media, where the parents of the other children could see the consequences that bullying has had on their daughter.
The video of the Davies' daughter's panic attack quickly reached more than 10 thousand views on Facebook, along with thousands of comments of support and advice. Apparently, the school authorities have taken action on the matter, but no further information is known.
This sad story reminds us of two police officers that decided to help a teenage boy who was bullied at school so bad that he even wanted to take his own life.
Victor was in a familiar situation of the Davies' daughter as the bullies were making his life miserable at school. He was being bullied solely because of his thick glasses.
The teachers worried that he might want to commit suicide because of his cruel experiences, so they immediately called 911. When officers Sedbury and Martinez arrived on campus to check on Victor, the suspicions of the teachers were right.
Please fill in your e-mail so we can share with you our top stories!