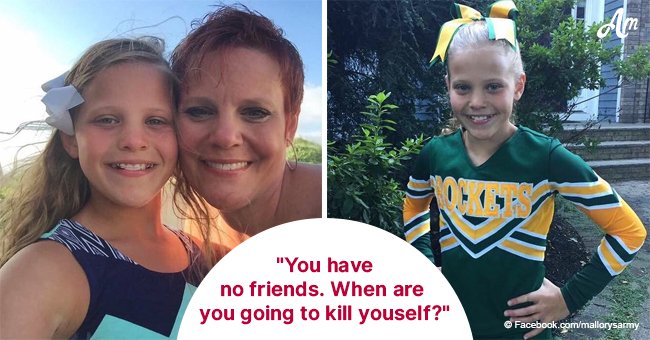 Devastated mom of 12-year-old girl who killed herself because of bullying reveals her torment
A young girl's suicide opens the debate on cyberbullying once again.
12-year-old Mallory Grossman committed suicide after an unrelenting 8-month campaign on the part of cyber bullies who urged her to kill herself.
Now, Mallory's family is suing the school for failing to respond to their appeals for help on behalf of their daughter, reported The Sun.com on November 6, 2018.
"You don't have any friends. Why don't you kill yourself?"
Sixth-grade girls from Rockaway Township, N.J., The Sun.com, November 6, 2018.
UNRELENTING TAUNTS AND SNUBS
Mallory would receive dozens of taunts in text messages, Instagram posts, and Snapchats every day, and her vicious abusers were children - her classmates at the middle school she attended in in Rockaway Township, New Jersey.
The same group of sixth-grade girls would torment Mallory during school, snubbing her and ostracising her, until the child started begging her mother to let her stay home from school.
A TALENTED GYMNAST, A BRILLIANT STUDENT
To their dismay, the Grossmans saw their pretty daughter - a dedicated gymnast and a straight-A's student - lose her sparkle, complaining of constant headaches and stomach pains. Little did they know the pressure she was under.
MALLORY'S PARENTS ASKED FOR HELP
When they became aware of the bullying in October 2017, the Grossmans spoke to her teachers, counselors and school administrators and asked them for help in ending the attacks on Mallory.
BULLY'S MOTHER SAID IT WAS "A JOKE"
In a desperate attempt to put an end to her daughter's torment, Mallory's mother, Dianne, contacted the parents of one of the bullies. The girl's mother was dismissive, and asked if Mallory couldn't "take a joke."
Dianne believes that Mallory's suicide was her daughter's attempt to escape from an unbearable situation. The 12-year-old's death has had major repercussions in the New Jersey's schools outlook on bullying.
Sadly, it is too late for Mallory and her parents who asked for help in vain. The Grossmans are also suing the parents of the girls who were bullying Mallory, and who dismissed their daughters' actions as "a big joke."
The Grossmans have founded Mallory's Army, an organization dedicated to fighting bullying in memory of their daughter.
Follow us on Twitter Amomama USA to learn more.
CYBERBULLYING IN AUSTRALIA TRIGGERS A SUICIDE
In January 2018 Dolly Everett, a teenager from the Northern Territory committed suicide. The 14-year-old girl had been the victim of cyberbullying and had been driven to her death by the ceaseless attacks of children attending her school.
Dolly's parents have been working to raise awareness of the problem within the school system, and to find mechanisms to protect the vulnerable pupils from harassment.
Cyberbullying is now widely recognized as a serious problem for teenagers, but experts, parents, and educators are struggling to find solutions.
Suicide is the leading cause of death for people aged 15 to 44 in Australia, and more and more teen suicides have been attributed to cyberbullying.
Please fill in your e-mail so we can share with you our top stories!