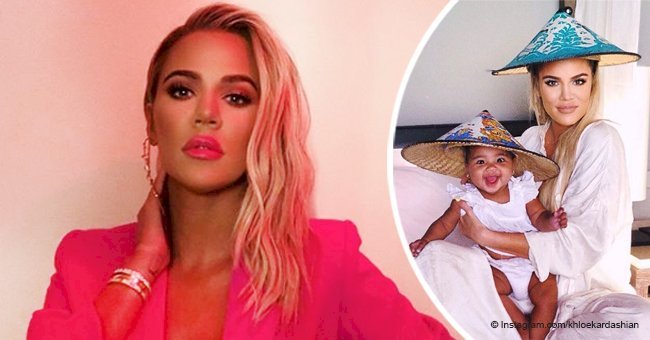 Fans slam Khloé Kardashian for cultural appropriation for wearing bamboo hats with her daughter
Khloe Kardashian's 'mommy and me' photo with daughter True Thompson triggers a flood of criticism.
Khloe Kardashian is a reality star, and that means she has no privacy. Her every move is followed and commented on by strangers, and sometimes it seems that the price for fame may be high indeed.
An innocent photo of the reality star and her daughter posing in bamboo hats from a recent holiday to Bali posted on Instagram/khloekardashian has solicited accusations of "cultural appropriation" from her followers.
"White girl with a black baby in a Chinese get up."
CHINESE HATS OFFENDED FOLLOWERS
An avalanche of comments - most of them critical - followed Khloe's posting of the photo, even though the post received an overwhelming 4,000,000 likes.
Her followers felt that since she is not Chinese, her use of a traditional bamboo Chinese hat was disrespectful to Chinese culture.
THE KARDASHIANS AND CULTURAL APPROPRIATION
It's not the first time the Kardashians have come under fire for what fans call "appropriation" of traditional cultural symbols.
KHLOE AND THE NIQAB
Back in 2015, Khloe came under fire when she posted a photo of herself wearing a niqab during a trip to Dubai. Again, fans and followers felt that she was being disrespectful to Arab culture by using the garment as a costume.
KHLOE AND HER NATIVE AMERICAN HEADDRESS
In yet another incident, Khloe posted an old photo of herself wearing a Native American headdress. Her followers were outraged, but one Native American fan said that she wasn't offended and offered to teach Khloe all about her culture.
"@khloekardashian mM husband & daughter are Shinnecock. We would love to show you the Shinnecock Museum so you can learn about our history."
KYLIE JENNER IN HOT WATER OVER CORNROWS
It seems as if the sisters have a talent for trouble. Kylie Jenner was slammed for using her hair in cornrows.
Cornrows are an ancient traditional African style of hair grooming, in which the hair is braided very close to the scalp, using an underhand, upward motion to produce a continuous, raised row.
Cornrows are a popular hairstyle favored by black women, and Kylie was criticized for using a hairstyle which does not belong to her culture.
Please fill in your e-mail so we can share with you our top stories!